Built Ford Tough Series Update – Thackerville
By: Kacie Albert Saturday, September 2, 2017 @ 11:40 AM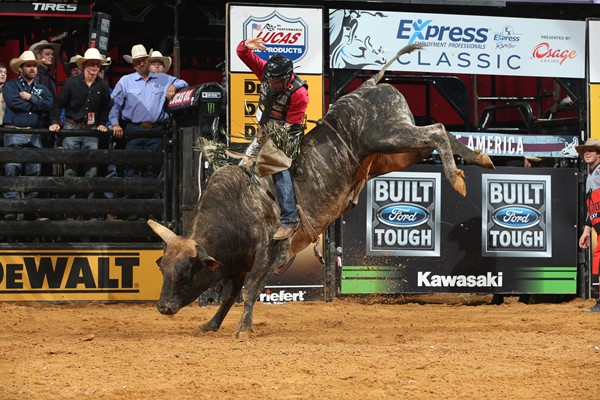 THACKERVILLE, Okla. – In just his first full season on the Built Ford Tough Series (BFTS), Dakota Buttar now finds himself as Canada's lone representative on the elite tour as it travels to Thackerville, Oklahoma for the two-day WinStar World Casino and Resort Invitational.
When the BFTS returned from its annual summer break in August, Buttar was accompanied by fellow Saskatchewan rider Tanner Byrne at the first two stops in Tulsa, Oklahoma and Nashville.
However, that all changed during the Music City Knockout.
After bucking off Big Benny in Round 1, eliminating him from the bracket style competition, Byrne had x-rays revealing fractures in both his wrist and ankle.
The 25-year-old now finds himself sidelined until November's Global Cup. 
RELATED: Byrne Sidelined Until PBR Global Cup
Much like Byrne, Buttar's season has also included injuries that have forced him to miss events.
RELATED: Buttar Aiming for Speedy Return to Action
At April's BFTS stop in Tacoma, Washington during his Round 2 out aboard Smooth Sailing, the 24-year-old found himself hung up and sandwiched between the bull and fence, bending his riding arm backwards.
As a result, Buttar both tore ligaments in his elbow and broke a bone in his riding arm.
"I've never had an injury where I've had to sit out before, so the first time it's kind of awkward," Buttar said at the time of the injury.
After a month of rehab, Buttar returned to make a summer push that included eight events both in the United States and Canada.
When the BFTS returned on August 12 in Tulsa, Oklahoma Buttar went 1-for-2 to finish 16th, but at the most recent stop in Nashville, failed to log a qualified ride.
"It hasn't been too good," Buttar said of his second half performance.
"I've been having troubles trying to adjust with the brace. I'm having a little trouble with that. I'm not used to really riding with any tape or anything. So going from nothing to brace, I've been struggling with it. "
"After Tulsa, it felt awesome. I felt like I was about 95% back. I felt like I could almost get rid of the brace," Buttar elaborated.
"And then Nashville, it came back almost like I was back to square one. And nothing tugged on it or anything. [The doctors] said it'll just do that. It'll just flare up like that for no reason."
And the nagging pain has caused Buttar to feel different on the back of a bull, but what that difference is eludes him.
"I can't really pinpoint what feels different, but when I slide up on my rope, everything just feels different. I don't know if it's just because of having that brace there, or what it is, but I feel like I'm sitting flat assed, and I don't know, I can't pinpoint it. I've been working on it, but can't figure it out."
Despite the injury and its lingering effects, Buttar's fellow countryman Byrne is impressed with what he's been able to accomplish this season.
"He's proven himself," said Byrne, of Buttar.  "He's had a year of some injuries. To be in that Top 35 after what he's dealt with all year is pretty amazing. "
When action gets underway this weekend in Thackerville, Oklahoma, Buttar has drawn Tan Lines in Round 1.
"I don't know what he is, he's got a few stats though," said Buttar of his first round draw. 
In Round 2, he'll face Custer's Last Stand.
"Rubens [Barbosa] got on him, and he went around to the left, jumped out of it and bucked him off when he jumped out of it. But he looked good."
The WinStar World Casino and Resort Invitational gets underway Saturday, September 2 at 6:45 p.m. CT and Sunday, September 3 at 4:45 p.m. CT.
PBR LIVE will also stream the entire event in real time starting at 6:30 p.m. CT on Saturday and 4:30 p.m. CT on Sunday. PBR LIVE is available at no charge to all fans. Visit www.pbrlive.com to view.
Fans can also watch all the action live via the PBR LIVE app, available for download now on Google Play and iTunes.