Built Ford Tough Series Preview - San Jose
By: Kacie Albert Saturday, October 21, 2017 @ 2:25 PM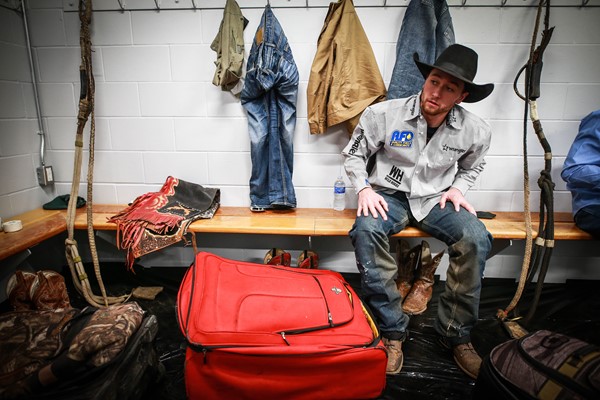 TORONTO – With San Jose, California set to host the final regular season event of the 2017 Built Ford Tough Series this Saturday and Sunday, the pressure is on for those riders looking to punch their ticket to the World Finals Nov. 1-5 in Las Vegas, Nevada.
Among those riders in the hot seat is the lone Canadian competing at this weekend's Cooper Tires Take the Money and Ride, presented by Wrangler, Jordan Hansen.
"I'm just worried about staying on my bulls and the rest should work out from there," Hansen said.
"I'm not looking too far ahead. I've got a few bulls to stay on and I'm sure we'll have another conversation after."
Currently No.39 in the world standings, Hansen is just 52.5 points away from No.35 Lachlan Richardson and an automatic berth to the PBR World Finals.
With 700 points on the line this weekend, Hansen could easily punch his ticket to the Sin City event, becoming just the fourth Canadian bull rider to qualify for the National Finals Rodeo, Canadian Finals Rodeo and PBR World Finals in the same year.
RELATED: Hansen in Search of Historic Trifecta
"It would definitely be pretty neat, that's for sure," Hansen said of the historic possibility of qualifying for the trifecta of events.
Despite the influence this event holds over how the remainder of his season will unfurl, Hansen says he will head to California for his fourth event on the elite tour with the same approach he uses at all events.
"I just look at it like another bull riding. I know a lot of guys the lights kind of get to them and stuff, but I just kind of push it all aside, and go and do my thing."
Hansen has drawn Long Haired Outlaw of New West Rodeos in the first round, a matchup which excites the 24-year-old.
RELATED: Click here for the complete Saturday day sheet
"I know he's a good one, so I'm pretty excited about that one," Hansen said.
"But I'm just looking at him as another bull and we'll go from there."
While some rookie riders take a period to adjust to the aura of an event on the premier tour, Hansen has seemingly settled in immediately.
"It's pretty cool," Hansen said of the event atmosphere.
"They make you feel like you've actually made it, it's kind of a hard thing to describe."
Of late, Hansen has not only become a consistent face at the Built Ford Tough Series events, but in the championship rounds as well.
Of the three events he's compete at since September, Austin, Uniondale and Nampa, he's gone 3-for-8 advancing to two Championship rounds.
Action for the PBR's third visit to California gets underway with Round 1 on Saturday, October 21 at 6:45 p.m. PST. The event concludes with the second and Built Ford Tough Championship rounds on Sunday, October 22 at 1:45 p.m. PST.
Championship Sunday will air on CBS Sports Network on Sunday, October 22 at 6:00 p.m. ET with coverage of Round 2 and the Built Ford Tough Championship Round.
Fans will also be able to watch the action in its entirety at PBR.com/ondemand. Action from Round 1 will be available at 8:00 a.m. ET on Sunday, October 22, while Championship Sunday will be viewable starting at 8:00 a.m. ET on Monday, October 23.
Be sure to stay tuned to PBRCanada.com and follow the tour on Facebook (PBR Canada), Twitter (@PBRCanada), and Instagram (@PBRCanada) for the latest results.