Built Ford Tough Series Preview – Raleigh
By: Kacie Albert Saturday, October 14, 2017 @ 10:49 AM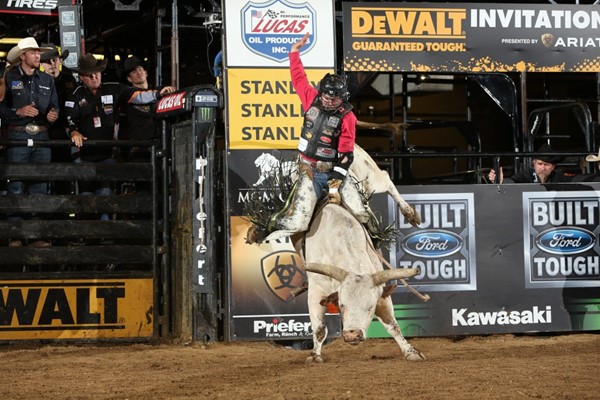 TORONTO - After winning his first event on the elite tour last weekend in Nampa, Saskatchewan's Dakota Buttar is slated to be the lone Canadian rider as the premier Built Ford Tough Series (BFTS) bucks into Raleigh, North Carolina for the penultimate regular season event of 2017.
The 24-year-old, currently amidst his first full year on the elite tour, won his first event last weekend as the only rider to go a perfect 3-for-3, joining Tanner Byrne as the only two Canadian-born riders to have won a BFTS event since 2003.
RELATED: Buttar Wins in Nampa
For Buttar the career moment come on the heels of heeding the advice given to him by Matador Jerky Bullfighter Shorty Gorham.
RELATED: Buttar Takes Gorham's Advice to Heart, Wins First Event
In Colorado Springs, the event prior to his eventual win, Gorham pulled Buttar aside after noticing that during the Canadian's recent 2-for-12 slump he was getting out too far over his bulls inside the bucking chutes.
"He was almost laying down on their shoulder before he nodded his head," Gorham told PBR's Justin Felisko.
"The first thing that happens is your upper body is going to go back and your bull is going to get away from you and get you behind your rope. I told him to just sit up straight and leave when the bull leaves."
When Buttar returned home he watched every video of his previous outs he could locate, immediately noticing what Gorham had pointed out.
In an effort to make the correction he repeated the short phrase, 'sit up more in the chute,' over and over, a small adjustment that paid dividends, propelling him to his first win on the elite tour.
The victory garnered him 475 world points, elevating him from No.32 to No.27 in the world standings, all but locking up his second consecutive trip to the PBR Built Ford Tough World Finals.
"This takes a big weight off my shoulders. I can relax a little bit now that I have bumped up a bit. I can just go ride bulls," Buttar said after his win.
This latest change to his approach comes after the two-time Canadian Pro Rodeo Association Champion made the switch to a Brazilian rope in an effort to reduce the lingering pains he still felt from the elbow injury he sustained in Tacoma, Washington this April.
 "This is the best my elbow has felt," Buttar said. "I barely have the brace. I cranked (the elbow) pretty straight. This rope seems to be helping."
This weekend Buttar will look to continue his positive momentum as the tour prepares for its penultimate regular season event in Raleigh, North Carolina.
He has drawn Mike Miller Bucking Bulls' Colt .45 in Round 1 and Torres Brothers' Wire Up in Round 2 of the Frontier Communications Invitational, presented by Cooper Tires.
RELATED: Click here for Saturday's daysheet.
The Raleigh event will mark Colt .45's second out on the Built Ford Tough Series, having dispatched Koal Livingston in 5.28 seconds in late-September in Uniondale, New York, and will be Wire Up's debut on the elite tour.
While Jordan Hansen competed in Nampa, going 0-for-2, and Brock Radford was anticipated to ride before withdrawing, both have slipped from within the Top 35 and neither will make the journey to the Tar Heel State this weekend.
Both, however, have entered PBR Canada's Monster Energy Tour event in Abbotsford, British Columbia on Saturday, Oct. 14.
Action for the PBR's first visit to North Carolina's capital city since 2003 gets underway with Round 1 on Saturday, October 14 at 6:45 p.m. ET. The event concludes with the second and Built Ford Tough Championship rounds on Sunday, October 15 at 1:45 p.m. ET.
Championship Sunday will air on CBS Sports Network on Sunday, October 15 at 2:00 p.m. ET with coverage of Round 2 and the Built Ford Tough Championship Round.
Fans will also be able to watch the action in its entirety at PBR.com/ondemand. Action from Round 1 will be available at 8:00 a.m. ET on Sunday, October 15, while Championship Sunday will be viewable starting at 8:00 a.m. ET on Monday, October 16.
Be sure to stay tuned to PBRCanada.com and follow the tour on Facebook (PBR Canada), Twitter (@PBRCanada), and Instagram (@PBRCanada) for the latest results.