Built Ford Tough Series Preview - Nampa
By: Kacie Albert Saturday, October 7, 2017 @ 4:20 PM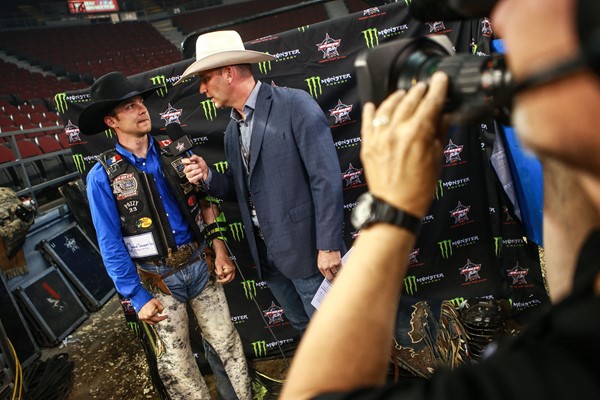 TORONTO – With just three regular season Built Ford Tough Series (BFTS) events left this season, the race to be ranked within the Top 35 of the world standings is coming to a head.
In Nampa, Idaho for the sixth consecutive year for the DeWalt Guaranteed Tough Invitational, presented by Ariat, this weekend's BFTS Canadian contingent includes a pair of 24-year-old riders.
Currently ranked No.33 and No.34 respectively, both Dakota Buttar and Jordan Hansen will look to earn their share of the 700 world points on the line this weekend, climbing the standings so in two weeks' time they can punch their tickets to the World Finals on Nov. 1-5 in Las Vegas, Nevada.
After finishing seventh at the mid-September stop in Austin, Texas, Buttar, of Kindersley, Saskatchewan has been shut out at the previous two events.
His success in the Lone Star State came after making a switch to a Brazilian bull rope in the hopes that it would ease the pain he still endures from the elbow injury he sustained in the first half of the season in Tacoma, Washington.
RELATED: Bull Rope Switch Helping Buttar with Elbow Injury
However, Buttar has bucked off his last six draws, including his championship round bull in Austin.
At the most recent event in Colorado Springs he bucked off Boot Jack in Round 1 at the 2.42-second mark, and lasted 3.52 seconds aboard Canadian Fastlane in the second round. 
In Idaho, he will attempt to reverse his recent fate aboard Voo Doo Too and Modified Clyde in the first and second rounds.
After withdrawing from last weekend's event due to a nagging hip injury, Hansen returns to the BFTS draw this weekend.
Since making his elite tour debut on Sept. 16 in Austin, the Okotoks, Alberta native has covered half of his bulls (3-for-6), boasting the second highest riding percentage on the tour at 50%.
Hansen has also advanced to the short go in both of his outings on the BFTS.
Last riding in Uniondale, New York, Hansen finished fifth at the Buck Off the Island.
He tied for fourth in Round 1 after riding Road Rage for 85.25 points, which he followed with an 85.75-point ride aboard Well Hello in the second round.
Despite the success, Hansen has yet to cover his short go selection, bucking off Cooper Comet in 2.55 seconds in the Empire State.
This weekend he has drawn Springer Mountain in Round 1 and Big Country in Round 2.
RELATED: Click here for the Saturday daysheet.
Brock Radford, who missed the last event in Colorado Springs due to illness, will once again be sidelined.
After riding at Friday night's PBR Canada Monster Energy Tour event in Winnipeg, Manitoba, bucking off his round one draw, the De Winton, Alberta man did not make the trip to Nampa.  
Action for the DeWalt Guaranteed Tough Invitational, presented by Ariat, at the Ford Idaho Center gets underway with Round 1 and the final 15/15 Bucking Battle of the season at 6:45 p.m. MT. The event concludes tomorrow, Sunday, October 8, at 3:45 p.m. MT with Round 2 and the Built Ford Tough Championship Round.
Championship Sunday will air on CBS Sports Network on Sunday, October 8 at 6:00 p.m. ET with coverage of Round 2 and the Built Ford Tough Championship Round.
Fans will also be able to watch the action in its entirety at PBR.com/ondemand. Action from Round 1 and the 15/15 Bucking Battle will be available at 8:00 a.m. ET on Sunday, October 8, while Championship Sunday will be viewable starting at 8:00 a.m. ET on Monday, October 9.
Be sure to stay tuned to PBRCanada.com and follow the tour on Facebook (PBR Canada), Twitter (@PBRCanada), and Instagram (@PBRCanada) for the latest results.