Blazing Star Does a Different Dance
By: Andrew Giangola Monday, March 20, 2017 @ 2:16 PM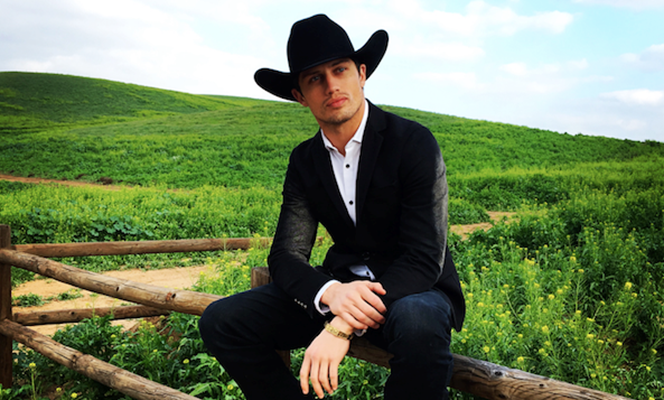 The first piece of very good news was that he wasn't going to die.
Then Bonner Bolton, temporarily paralyzed after a bad fall at the 2016 PBR season opener in Chicago, found out that one day, he'd be back on his feet.
"The minute the doctor said I would walk again, I wanted to jump right out of that hospital bed and dance," Bolton said.
And boogey he will – on ABC's hit series Dancing with the Stars.
Since pile driving into the dirt at Allstate Arena, Bolton's life has taken sharp turns onto paths typically not taken by cowboys raised on ranches and making a living barnstorming the country to ride bucking bulls. Fourteen months after nearly purchasing the farm, Bonner is embracing his cosmic reprieve. 
While flat on his back in a neck brace, Bonner was signed to global representation by IMG Models, PBR's sister company in the WME | IMG family and the world's largest star-making factory for personalities like Gigi Hadid, Gisele Bunchen, Kate Moss and Christie Brinkley. He was named one of Us Weekly's Hot Bodies, sat front row at a Victoria's Secret show, posed for famous photographer Mario Testino, and landed on the front page of the Wall Street Journal.
And now, another road to be traveled, a little more than one year removed from being planted face down and powerless, preparing to meet his maker. One of PBR's own, who has spent his whole life tearing muscles and breaking bones in a quest for a World Championship buckle, will get the opportunity to tango and twist on the biggest dance stage of them all. The new Dancing with the Stars season premieres ABC on Monday, March 20th at 8 pm ET. 
"I know from Ty Murray, who also competed on the show, that this will probably be the hardest thing I'll do in my life," Bolton said. 
"I'm up for the challenge. Physically, I feel good, and I'm in it to win it. I want to be an inspiration to anyone dealing with an accident, injury or illness. I'm thankful for what I've overcome, and I hope to help motivate others who have challenges."
ABC let Bonner submit three picks for his ideal dance partner. To get to know the dancers, he and his mom pored over past seasons of the show and Googled up a storm.
At the show's first taping at his great grandfather's spectacular 4,000-acre ranch in Millsap, Texas, Bonner would finally meet his mystery partner, who was stationed at a nearby hotel under stand-by instructions. The crew waited for late-day golden sun to make the call. Bonner walked a horse named Cedar up a gravel path towards a fit girl with flaming red hair. 
She was his first choice, Sharna Burgess, a veteran dancer who has finished as a DWTS runner-up several times.
Sharna sauntered in stiletto heels toward the cowboy. Despite the footwear (she was unaware of her destination that afternoon) and with Bonner's help, the spunky Australian was riding Cedar.  
In researching potential partners, Bonner was impressed with how Sharna worked with Noah Galloway, a disabled war veteran performing on one leg.
The PBR star's physical challenges, though in no way comparable, can't be discounted. After splitting his C-2 vertebra – the same injury suffered by Christopher Reeve – Bolton was given a 1-5 percent chance to walk. Although he's now doing yoga and pulling his full body weight in chin ups, hoping to one day get back to the PBR, he is not yet cleared for competition. A metal clamp fusing his C-2 and C-3 vertebrae sits precariously close to a vital artery. Eight inches of metal in his shoulder holds together a collarbone shattered in four places by a bull's horn.
"I know I'm going to have to baby my neck and avoid certain dance moves," Bonner said. "I'm putting my faith in Sharna."
Burgess' first task has been to give Bonner the confidence to move freely and avoid the instinct to protect his neck.
"He's had a massive injury, and dancing puts a lot of strain on the body," Burgess said. "But I love a challenge. With Noah, we worked our way around it, and I expect to do the same with Bonner."
Sharna has lifelong experience to draw on. She started dancing ballet as a five year old and left Australia for England 13 years later "to chase my dancing dream."
She works well with athletes, having made it to the semifinals with Olympic ice dancer Charlie White and race car driver James Hinchcliffe. She's also partnered with NFL stars Antonio Brown and Keyshawn Johnson.
"I love people with depth and truth and stories, who are willing to bare their soul," Burgess says.
As his partner develops the choreography to reveal Bolton's story, the Texas cowboy is memorizing intricate new steps, working his body toward its best shape since the Chicago accident, and studying film. His agents sent a list of movies to study, including Magic Mike, Dirty Dancing, Singing in the Rain, and An American in Paris.
"Had Magic Mike been cast today, I believe Bonner would have a role," said Ivan Bart, head of IMG Models.
Bart believes the dance show drawing up to 15 million weekly viewers can catapult Bolton into a new entertainment career.
"We live in confusing times. Men aren't quite sure what true masculinity means anymore," Bart said. "We need role models representing the new modern man. Bonner is a genuine, down-to-earth cowboy. America is going to love him."
With the help of WME |IMG, Bolton has a deep support system not available to Ty Murray when he competed on the popular dance show in 2008.
Murray remembers an important prep call with the network. Toward the end, the talent booker asked for questions. Murray had none. 
"She burst out laughing," Murray recalled. "She said, 'You have absolutely no idea what you are getting yourself into!"
She was right. Each day after grueling dance training sessions, Murray would wake up feeling like an 80-year old man.
"Muscles I didn't know I had hurt," he said. "You're dancing for six hours in these weird little shoes. It felt like every bone in my foot was broken."
Murray wasn't much of a dancer, and he knew as much. He trained so hard, he wound up eating a bucket of ice cream every day just to keep his weight.
Despite the relentless physical grind, the hardest part was remembering the choreography – "what to move on your body and where to go," as the nine-time world champion put it.
"There is no way faking your way through that show," he said. "Dancing is an art form that takes a whole life to learn. The pros have spent years of disciplined practice to get where they are. And now you're attempting what they're doing."
Sidelined from any competition since his fall, Bolton is chomping at the bit to compete again. He's more nervous doing the tango than getting on Rango, a rank bull he rode as Scott Eastwood's stunt double during a pressure-packed midnight shoot for a key scene in the film, "The Longest Ride."
Since the Chicago wreck, Bonner has missed the adventure of life on the road and the camaraderie of swashbuckling, outsized personalities like Chase Outlaw, Stormy Wing, and J.B. Mauney.
"It's a lot different, but Mr. T, Nancy Kerrigan, Charo, and Chris Kattan are fun, too." he said. "There have been some pretty good laughs in our locker room."
The DWTS blogosphere is calling this the most talented DWTS cast ever. The mix of athletes and show-biz veterans are hardened competitors described by Bonner as "hungry wolves."
Yet, Murray, who made it to the fourth round, says the younger bull rider is a much better dancer than he was and has a chance to win the high-stakes dance competition. 
"Bonner has the right attitude and is preparing mentally and physically," Murray said. "He's a legitimate cowboy and has the support of the entire western sports community. Bonner is going to be a tremendous ambassador for PBR and all cowboys."
Bolton, who says he learned to move in honky-tonks and dance halls, sees similarities in bull riding and dancing.
"Both disciplines require balance, strength, posture, form, and reflex muscle memory," he says. "In my sport, there's a premium on rhythm and timing, countering those bulls, move for move. The bull leads, and you follow. I'm relying on Sharna to teach and lead me. One big difference is she's a lot smaller, and I'm pretty sure she won't be unpredictable and mean like the bulls I've faced over the years."
The first taping at his great Grandpa's ranch lasted until the sun went down. Darkness descended, and a shooting star burst across the clear sky like a flaming pearl. The Australian dancer and Texas cowboy who had first met that afternoon shared a knowing look. You'd have to be a hardened cynic not to sense fateful chemistry.
"I saw that blazing star and made a quick wish," Bolton said. "I'm pretty sure Sharna did, too."