Biever Begins U.S. Push After Global Cup Confidence Boost
By: Kacie Albert Friday, December 1, 2017 @ 5:58 PM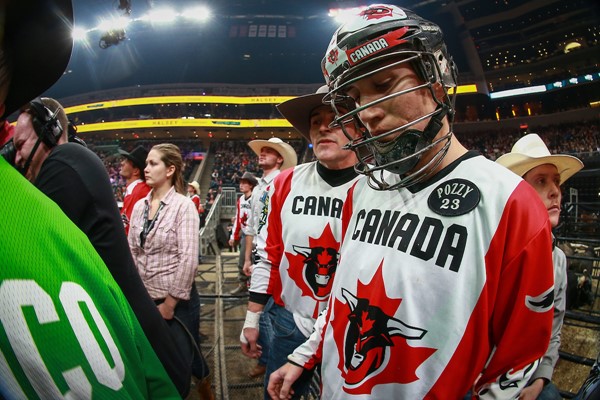 New York – When talking to just about anyone who stepped foot inside Rogers Place for the inaugural Global Cup, most, if not all, will say the event was one of, it not the best bull riding they had ever attended.
And that isn't limited to just spectators, with many riders, especially the 14 riders from Team Canada, pointing to the five-nation international showdown as a career-defining moment.
Following the first-ever Global Cup, several Canucks, including Logan Biever decided to strike while the iron was hot, heading stateside for one of the first Real Time Pain Relief Velocity Tour (RVT) events of 2018.
After "driving all night" to meet fellow riders Lonnie West and Jackson Scott in Regina, Saskatchewan, the trio made the final four-plus hour trek to New Town, North Dakota for the Chad Berger hosted event.
"This was my second Velocity and it just felt like another bull riding," Biever said.
"I was so nervous at the Global Cup I couldn't even hardly stand still. But this Velocity was just another bull riding, I felt like I was back home in Canada at just a little town bull riding."
And while the 19-year-old was still channeling the electric atmosphere from Global Cup, his last event in his home country was one of the best finishes of the third-year rider's career.
Biever, who finished the season No. 14 in the PBR Canada rankings, concluded the season finishing third at the PBR Canada Finals after Minion Stuart, who has been selected to buck at the PBR World Finals the past three consecutive years, for 87 points in the championship round.
"That felt pretty good to ride one of the top bulls in the world that was going to World Finals," Biever recalled.
Once in North Dakota, the Claresholm, Alberta rider was the second man to log a qualified ride, making the 8 aboard Legacy for 86.5 points to tie for fourth in the round.
While he'd go on to buckoff Cheese Bandit later that night, Biever found himself facing a familiar foe on the second night when he drew Swashbuckler for the third time in eight days' time.
"I wanted to try that one again, so I picked him," Biever said in the matchup.
In the duo's first encounter, on the first night of the Global Cup, the Chad Berger bull bucked Biever off at the 4.36-second mark to earn a 42.5-point bull score. Just 24 hours later the human and bovine athlete met again on the final night of the event, this time with Swashbuckler earning 43 points for making quicker work of the cowboy, dispatching him in 3.93 seconds.
At the RVT event, the showdown played out much like each of the past meetings, with Swashbuckler once again sending Biever to the dirt before the whistle, and once again earning a high bull score, this time 43.5 points.
Despite the buckoff, unbeknownst to Biever, he had still qualified for the championship round via his ride on the event's opening day.
"I was actually just eating popcorn and sitting around looking at what everyone was going to pick," Biever said of the moment he realized he had one out left.
"I didn't know that they took your score from the night before and you could actually make the short go, so I was standing around eating popcorn and all of the sudden they called my name and I got to pick a pull for the short go."
And Biever decided to seize the moment, selecting Smooth Operator, who in 16 outs on the PBR's elite tour in 2017 was ridden just once.
The bull, who carried a 13 out buckoff streak across all PBR tours into the showdown, had last been covered by Mason Lowe during Round 2 of February's Iron Cowboy for 90.75 points.
"When I picked him, I had the sixth pick, everyone looked at me kind of crazy for picking him," Biever said.
"I knew he was a good bull, they had switched deliveries, and I knew he was going to buck if I got on him so that's why I picked him."
"I thought that's the one to win on."
While the outcome was "not very good," with Smooth Operator besting Biever to earn a 45-point bull score, he was "just happy to get on him."
In addition to still feeding from the Global Cup energy like many of his teammates, Biever has also drawn inspiration and momentum from his new living arrangements at the home of Wild Hoggs' Ty Streeter, where he has been for about three months.
"You're around [bull riding] all the time," Biever said.
"You've got positive influence coming in, you've got positive influence coming out, so it's just bull riding all the time. Before you live and sleep and eat it, and now you're getting fed it. That's all you learn and you get to pet some of those bulls you're getting on, so it just helps 110% that's for sure."
Next on the competition docket for Biever is Frontier Communications Rumble, a two-day RVT event on December 1-2 in Huntington, West Virginia.
Be sure to stay tuned to PBRCanada.com and follow the tour on Facebook (PBR Canada), Twitter (@PBRCanada), and Instagram (@PBRCanada) for the latest results.