Back Where it Began
By: Kacie Albert Thursday, October 5, 2017 @ 5:58 PM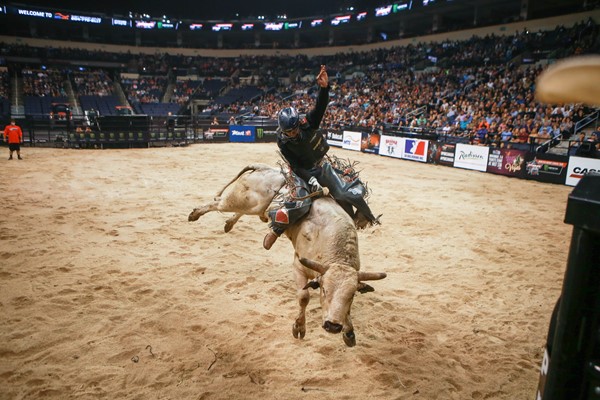 WINNIPEG, Manitoba – While 2013 PBR Canada Champion Zane Lambert may now reside in Alberta, he is a Manitoban at heart, born and raised in Westbourne.
With his hometown located less than an hour-and-a-half drive from the city of Winnipeg, this weekend will be a homecoming for the 31-year-old, who is currently ranked No.3 in the PBR Canada national standings.
"If we went to the city, it was going to Winnipeg," Lambert reflected of his childhood.
"So definitely a hometown city for [me]."
Winnipeg, however, carries additional significance for Lambert.
Beyond the proximity to his family, the city played host to two moments that served as catalysts for his ever-successful bull riding career that has spanned more than a decade.
The first of those moments for Lambert came when he was just a child.
"I think I was seven or eight when I first kind of fell in love with the sport and wanted to see it," Lambert recalled.
"Dad and mom took me to an event here in Winnipeg, it was a Cody Snyder Bullbustin', and I remember watching it and then going down behind the scenes when they signed autographs and standing in line and getting to meet all the cowboys."
"I got them all to sign my hat, and that's where I started asking, 'What should I do if I want to get into this sport?'"
"Some of the riders suggested I go to this Jimmy Lawrence bull riding school that was two-and-a-half hours from the house, and dad thought that was a good idea, so I went."
Several years later, after turning 18 and becoming eligible to ride in the PBR, Lambert made his PBR debut in Winnipeg and the now Bell MTS Place on June 2, 2006.
"My points weren't qualifying me in the Top 35 to qualify for this event, but I ended up getting in as an alternate," Lambert said.
"I got phoned a couple days after entries and they needed some riders, so I got in."
Lambert seized the opportunity, turning the event not only into his debut, but also the site of the first win of his career with the PBR.
"It was my first big win, and that's what got me going in the PBR," he said.
"After that I got into everything." 
In subsequent returns to Manitoba's capital city, Lambert has recorded additional third and ninth place finishes.
As the Monster Energy Tour prepares to return to action following its more than three month break, Lambert is energized that it comes in a city that he has such a history with.
"It's going to be good to be back here and I always like competing in this arena. I've had some success, so this is definitely one of my favorite arenas to ride in."
On hand to cheer on Lambert will be his entire family, which is a rare occurrence for him.
"The older my family gets, the less we all get together. We're kind of scattered out across the Prairie Provinces," he said.
"Usually the finals and the big events mom and dad will come to, but it's hard to get all the siblings together."
"We're all here for this event, and it's tough to get us all together at a bull riding event, so it will be special to have them all here."
The timing of the event, just days before Thanksgiving, will also allow Lambert to celebrate the holiday at home with family after the action concludes.
"I'll head back to the farm and dad is a cook, so he'll cook us up a bird," Lambert said of his holiday plans.
"I'll hang out there and have a couple days at the old stomping ground."   
Action for the PBR Monster Energy Tour presented by Macs and Circle K gets underway at 8:00 p.m. CT at Bell MTS Place. Tickets are available at Ticketmaster.ca.
Be sure to stay tuned to PBRCanada.com and follow the tour on Facebook (PBR Canada), Twitter (@PBRCanada), and Instagram (@PBRCanada) for the latest results.