Alberta Swing
By: Kacie Albert Saturday, July 1, 2017 @ 2:28 PM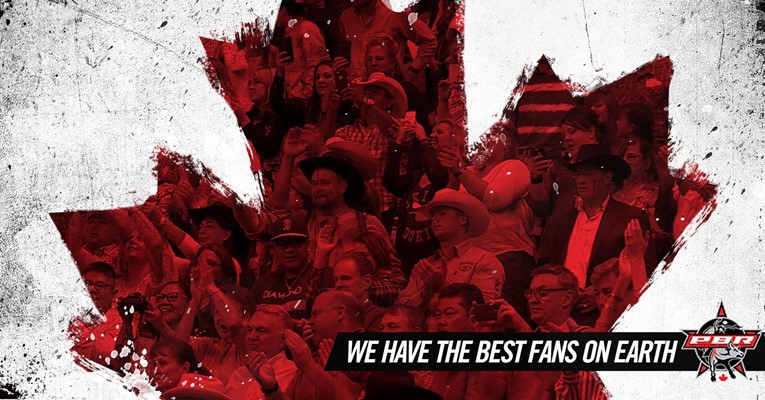 While for most this weekend marks Canada's 150th birthday, for a select group of bull riders it also marks the beginning of a six event push in Alberta with crucial points up for grabs towards the Canadian National Standings.
The slew of events kicks off Sunday, July 2nd in Cluny at the Cluny Lions Charity PBR, followed by two stops in Calgary at Ranchman's on July 4-5 and 6 for the Ranchman's Renegades Charity Bullbustin and PBR Bullbustin in Support of Sheldon Kennedy Child Advocacy Centre, respectively.
The tour then heads east, stopping in Edgerton on July 7 for the Edgerton PBR Bullarama, Kinsella on July 12 for the Kinsella Gravel Dome PBR, concluding in Czar on July 21 for the Czar Lake Bullarama.
With all six of events set to take place in a 750km radius, most less than an hour drive apart, the anticipated field for the first four stops is highlighted by a group of 19 Alberta natives. 
Currently ranked No.2 in the Canadian National Standings, Ponoka's Zane Lambert is one of two home-province riders set to compete at all of the first four stops.
So far this season Lambert has logged six Top 5 and 10 Top 10 finishes, highlighted by his win in mid-June at the Touring Pro Division stop in Wanham, Alberta.
In the month of June, Lambert used his event winning performance in Wanham, coupled with three additional Top 5 finishes to surge up the Canadian National Standings where he now trails No.1 Jordan Hansen by just 318.33 points.
Anticipated to join Lambert on the draw for all four events is Fairview's Cole Young. The 25-year-old currently sits No.29 in the Canadian rankings, trailing the Top 10 by fewer than 400 points.
Young logged his best finish of the season at the Monster Energy Tour's second event of the season in Ottawa, Ontario, where he finished second. His performance was led by his second place finish in Round 1, where he rode True Grit for 84.5 points.
Another surging Alberta rider slated to compete at multiple of their home-province Touring Pro Division events its Brock Radford, the No.6 ranked rider in the Canadian National Standings.
The Dewinton rider earned the first PBR victory of his career this season in Swift Current, Saskatchewan as the lone rider to deliver a perfect 2-for-2 performance. After logging three Top 5 and eight Top 10 finishes in 2016, Radford is already on pace to have a better season, with four Top 5 and six Top 10 finishes already in 2017.
Also on hand for several of the Alberta events is the No.1 ranked rider in the Canadian standings, Jordan Hansen. From Okotoks, Hansen began the 2017 season in Canada in the best way possible, taking first and second place at the season-launch Touring Pro Division event in Lethbridge, Alberta.
Since, Hansen has logged one additional event win, taking the title on June 23 in Ponoka, Alberta, in addition to two Top 5 finishes.
While all eyes will be on the Canadian riders competing in their home province, the Alberta slew of Touring Pro Division events will also include riders from the elite Built Ford Tough Series.
With eight riders making the trip north for at least one of the events, the contingent is highlighted by Jess Lockwood, Chase Outlaw, Matt Triplett and Joao Ricardo Vieira, all ranked in the Top 10 in the world standings, in addition to Kindersley, Saskatchewan's Dakota Buttar, ranked No.28
Adding another layer of intrigue for fans attending these events is the internationally diverse field of riders set to compete.
At three of the first four events, riders from six nations, Australia, Brazil, Canada, Mexico, New Zealand and the United States, will be in attendance.
Action for the first event, Cluny Lions Charity Bullarama, gets underway at 6:30pm on July 2 at Coulee Creek Farms. Be sure to stay tuned to PBRCanada.com and follow the tour on Facebook (PBR Canada), Twitter (@PBRCanada), and Instagram (@PBRCanada) for the latest results.