A prestigious win for Parsonage
By: Kacie Albert Wednesday, September 6, 2017 @ 7:06 PM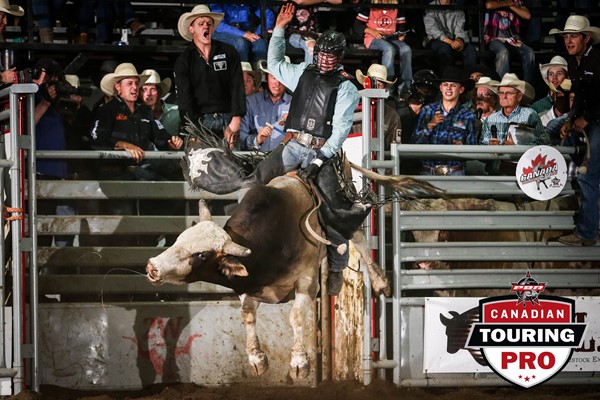 TORONTO – After breaking his jaw in June at the inaugural international Major and season opener for the Monster Energy Tour in Québec City, Jared Parsonage hadn't competed at a PBR event until last weekend's Glen Keeley Memorial Bull Riding.
However, when the 24-year-old returned to PBR competition, he picked up right where he left off having logged three Top-5 finishes, including an event win, across six events before he was sidelined.
"The injuries have sucked big time this year between my jaw, a separated rib, and my knee in Deadwood," Parsonage said bluntly.
"The thing is I've been winning lots when I've been healthy. I've probably had the best year I've ever had, when I'm healthy. I've won basically everywhere I've gone when I'm healthy, but I haven't been healthy too much."
Three months to the day that the Maple Creek, Saskatchewan rider had last competed at a PBR event, Parsonage found himself standing in arena center at event's end, tying with Zane Lambert for the win at the Touring Pro Division (TPD) stop in Stavely, Alberta.
RELATED: Lambert and Parsonage Split Event Win in Stavely
"That was maybe one of the coolest bull ridings," Parsonage reflected. 
"It was 82 that didn't make the short round. That was the last hole, so that was maybe one of the best bull ridings I've seen with the best kind of bulls. "
And not only did Parsonage split the event win, but he covered bounty bull Johnny Ringo, breaking the Vold Rodeo/Rafter G bovine's seven out buck off streak that dated to October 2016.
"Everybody knows about that one," Parsonage said of Johnny Ringo.
"I knew I was going to have my hands full. He's real itty bitty, bucks hard and moves ahead. He never gives you the same jump twice, that's for sure. "
Collectively the four-year PBR pro earned a season-high $16,179.65.  
"I just put it away," Parsonage said with ease of his earnings.
"I'm pretty much a put-it-away kind of guy. Save it up so I have something when I'm done riding bulls. I idolize the guys that used their bull riding towards bigger things.  I look up to that, because I don't want to be at the end of my career saying what if, or what do I do now."
His winnings, however, came after Parsonage climbed aboard six bulls, compliments of both his double entry and two re-rides.
"A person kind of gets going and gets riding them and kind of gets on a roll," Parsonage recalled of the six outs he faced at the one-day event.
"You think about it less and just ride bulls. You don't spend so much time, you kind of get on a roll, everything kind of gets flowing. You just do it, you don't got time to think too much, that's for sure."
His evening began in Round 1 with showdowns against Blackstone After Party, who made easy work of Parsonage, dispatching him in 3.30 seconds, and Cinder Block, who delivered Parsonage his first re-ride.
"I was sweating a lot, because it was hot in there, and I've never started so bad," Parsonage recalled.
"One thing I was thinking was I should never have even bothered double entering, because the one I bucked off of was one of the one's I re-entered on, so I shouldn't have even bothered with that. "
But the tides began to turn when Parsonage climbed aboard Dilly Gaff for his first re-ride of the event, covering the bull for 84 points.
"He's a really good younger bull of Girletz's," Parsonage said. "He was fun that day. He's a really cool little bull."
Advancing to the short go, Parsonage earned his second re-ride of the night after initially covering Tykro Checkered Flag for 80 points. 
And for Parsonage the decision on whether to take the re-ride aboard Smiling Bob was an easy decision.
"I actually got on him in the second round of San Antonio this winter and he bucked me off right at the whistle, so I really didn't hesitate to take the re-ride because I figured I ride him.
"The second time I'd get him."
And get him he did, for 86.50 points, tying championship round winner Lambert for the event title.
With the tie came a unique situation, as the Glen Keeley Memorial Bull Riding offered the event winner a chance at a bounty bull and additional $12,500 payout.
After much discussion, it was decided both riders would have a shot at the bounty, looking to both Johnny Ringo and the championship round re-ride bull Blow Me Away.
"When I realized we were tied, they talked about picking and drawing and what we were going to do," Parsonage recalled.
"Johnny Ringo and Blow Me Away, those are two good bulls, you can never expect a re-ride on either one of them, and Zane was like well heck, let's just each get on one, that way everybody's happy."
"That was the best way to do it, and the Keeley's and the Committee and everybody was gung-ho for that; the more good bull riding the better."
With the decision, came a career-first for Parsonage, the first 90-point ride of his tenure with the PBR.
After Lambert bucked off Blow Me Away, Parsonage covered Johnny Ringo for 90 points, the first rider to make the 8 on the bull since Ty Pozzobon rode him in October 2016 at the Monster Energy Tour event in Abbotsford, British Columbia.
Interestingly enough, however, had Parsonage had the opportunity to select first, his fortunes could have been much different.
"Zane picked, but I won't lie, I probably would have picked Blow Me Away," Parsonage quipped.
"He's awesome. He really gets to whipping around left into my hand, which suits my style. And he's really big, and I'm big so I was like I'd probably pick him for sure if I had to pick. I knew Johnny Ringo was going to be a lot trickier, but it really didn't matter, both of them bucked hard."
Looking back at the event, Parsonage is still in awe at the bull power all competitors faced.
"It was probably one of the best sets of bulls I have seen in a longtime. It had to be good watching."
"The bull guys in Canada, hats off to them," Parsonage later elaborated. "They raise some of the best and have some of the best bucking bulls in the world. They are big, strong, good bucking bulls, that buck hard."
"We're pretty spoiled being in Canada as bull riders because very rarely do we have to get on a bad one, almost never actually. "
For Parsonage having the breakout moment at the Glen Keeley Memorial Bull Riding carried extra sentiment because of who the event honors.
Held annually since 2004, the event pays tribute to Glen Keeley, one of western sports' most influential cowboys, who passed away due to injuries sustained at the 2000 Ty Murray Invitational.
Held in Stavely, Alberta, all proceeds from the TPD stop are donated to the Glen Keeley Benevolent & Scholarship Fund.
"You know what Glen means to the Canadian bull riding world and the bull riding world in general, he's kind of a hero to a lot of people and a lot of guys look up to him for what he accomplished. " Parsonage said.
"I'm really good friends with all the family and have known them forever, so it makes it kind of special."
Despite having attended only seven events this season, Parsonage's focus remains on qualifying for November's PBR World Finals in Las Vegas, Nevada.
"It's kind of crazy saying that when I've only gone to seven events, but I guess when you kind of get looking at the numbers, in all reality it's not too awfully big of a long shot."
"I plan on going to the events and I plan on winning so you never know what might happen. "
And to accomplish that Parsonage has the opportunity to ride at four additional PBR Canada events before season's end, an increased number compliments of the Monster Energy Tour.
"It fills up the fall perfectly," Parsonage said of the Monster Energy Tour.
"A guy can keep going all fall with the chance to win a lot of money."
PBR Canada's Touring Pro Division next travels to Magrath, Alberta for the Celebration for the Two Bit Nation on Thursday, September 21 at Two Bit Ranch. Action gets underway at 7:00 p.m. MT.
The Monster Energy Tour resumes on October 6 at 8:00 p.m. CT, stopping in Winnipeg, Manitoba at Bell MTS Place.
Be sure to stay tuned to PBRCanada.com and follow the tour on Facebook (PBR Canada), Twitter (@PBRCanada), and Instagram (@PBRCanada) for the latest results.