A daring career
By: Kacie Albert Friday, June 2, 2017 @ 10:32 AM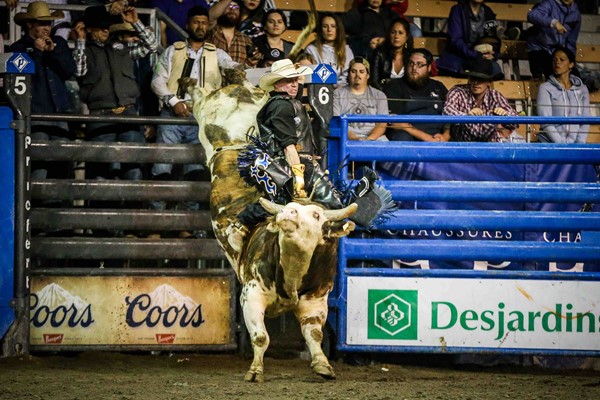 QUEBEC CITY, Quebec – In 2005 Eric Isabelle's career began on a dare; fast forward more than ten years and this weekend the Quebec cowboy is set to make his PBR Canada Monster Energy Tour debut at the inaugural international major and season launch event in Quebec City.
As a twenty-year-old Isabelle travelled to the famed Festival Western de St-Tite to support his friend who was competing in the bull riding event, a decision which would permanently alter his career trajectory. While at the event, Isabelle was challenged by his bull rider friend, believing he didn't have what it takes to last the 8-seconds. The proposition sparked a fire in Isabelle and soon after he found himself attempting his first ride.
"I saw nothing," Isabelle recalled. "They opened the chute, and I was like holy that's rank."
While he didn't make the buzzer in his first attempt, it instantly hooked Isabelle and he has made the sport his life's work ever since, drawn to the extreme nature and adrenaline rush he gets each time the chute door swings open.
Since his first ride, Isabelle has worked towards his ultimate goal of one day competing on the Built Ford Tough Series (BFTS), looking to the riders who compete on the elite tour, especially two-time PBR World Champion J.B. Mauney, as role models.
This weekend not only will Isabelle have the opportunity to inch closer to his dream of riding on the BFTS, with 300 world points up for grabs, the equivalent of winning a round at the 2017 Built Ford Tough World Finals, but he will also have the opportunity to compete side-by-side with his idols.
Joining Isabelle in Quebec City for the season launch event are four riders currently ranked in the Top 10 of the world rankings -- No. 4 Derek Kolbaba, No.5 Chase Outlaw, No.6 Jess Lockwood, and No.8 Matt Triplett. The high level of competition only excites the Quebec rider.
"When you ride with the best guys, you're going to be better," Isabelle said. "If you ride with the best guys, you're going to be the best."
Further adding to the excitement for Isabelle is the chance to compete in his home province in the first-ever PBR event in Quebec City. Isabelle says that Quebec is like family, and the opportunity to ride for them is special.
When action gets underway with Round 1, Isabelle will face Mike Miller Bucking Bulls' Slow Ride.
PBR Canada's Monster Energy Tour kicks off the 2017 season on Friday, June 2nd,  at 8 p.m. ET at the Videotron Center in Quebec City, Quebec. For tickets visit www.ticketmaster.ca or www.gestev.com, or call 1 855 790-1245.