Ted's Picks – London, ON
By: Ted Stovin Saturday, August 27, 2016 @ 11:50 PM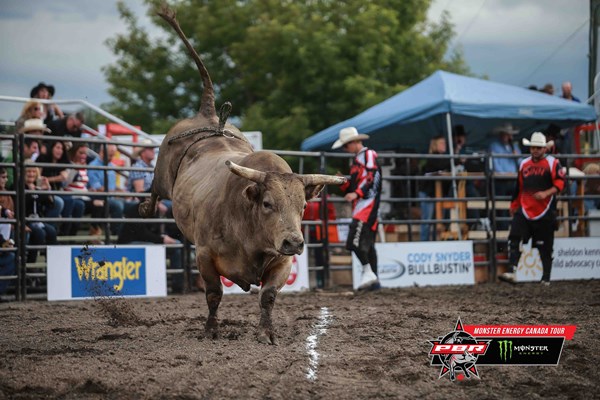 LONDON, Ontario – After a heck of a start to the PBR Monster Energy Canada Tour in Ottawa last week, it's going to be tough to top this week.
Thanks to everyone in Ottawa for the hospitality and supporting our event. Thanks to everyone that tuned in this week for the first set of broadcasts on TSN and RDS. Check out our entire (TV schedule) for when to tune in!

Finally, thanks to the TV crew for putting together that great show, the production team and the IMG staff for bringing it all together.
Unfortunately for this week, we've lost Ty Pozzobon to an event in Australia and Dakota Buttar is making his debut this weekend in Tulsa on the Built Ford Tough Series. Scott Schiffner is finishing healing up yet and plans to be back by Hamilton with Pozzobon.
For guys like Wacey Finkbeiner and Cody Coverchuk who finished in the top five in Ottawa, London is an opportunity to make up some major ground and maybe even get themselves up to the big leagues.
Speaking of those two, I'm picking them this week, especially with what they have drawn. A few other notables are expanded on below but I can't not mention Douglas Duncan on Myth Boy from the Wild Hoggs, this bull was rank in Ottawa and these two could team up for a pile. Duncan rode Bushwacker in Vegas in 2013 but was called for a slap. This guy is rank and can get the job done.
Kyle Primeau is getting back into the swing of things after fixing and selling cars in Wetaskawin lately. He's drawn Jawbreaker from the Skori's, the same bull that helped Brant Atwood to an 83 in round one and the overall win in Ottawa. No pressure buddy…
Atwood has drawn well in Marshal's Law from the Wild Hoggs. Monster Energy bull rider Reese Cates has the bull Finkbeiner won the first round on in Ottawa, Big Shot from Ellie and Lane Skori.
The Picks
Cody Coverchuk vs. 1954 Rolling Coal – Ridden 6 times in 22 outs, Rolling Coal has been a great bull these past few years. Jesse Torkelson won Lashburn on the black horned bovine athlete last year. Coverchuk sits third in Canada so far and 49th in the world. This is a bull he can win the first round on, look for an 85 plus here.
Wacey Finkbeiner vs. 21 Hookasuarus – We picked Cole Young on this Wild Hoggs bull with the best name last week but Young came up short. Finkbeiner is coming off a fourth place finish and is hot right now. Since Zane Lambert was the last guy to ride this bull, I bet he's given Wacey some of the details that may be helpful to get the job done. Look for an 86 in this out.
Zane Lambert vs. 127 Happy Heartbreaker – Brock Radford had this Vold bull in Ottawa but was bucked off. Zane started off the tour on a tough one from Ellie Skori in Katie's Pet but looks to redeem himself this Saturday. Unridden so far, there's still no matchup where I wouldn't pick Zane so you know where this is going…
Fabian Dueck vs. 0730 Grind the Crack – I haven't seen anyone ride this one from the Vold/Prescott string since Aaron Roy did so in Moose Jaw back in June. There the score was 85 points on the red and white bucker. Fabian is looking for his first points of the tour on Saturday and looks to advance from his current 33rd position in the Canadian standings. My money is on Dueck here being right hand down the same as Roy.
Tickets for the PBR Monster Energy Canada Tour stop in London are available at PBRCanada.com
The following is the draw for stop number two of the PBR Monster Energy Canada Tour in London, ON at Budweiser Gardens on August 27th, 2016 starting at 7:30pm EST.