Monea returns from injury to make Monster Tour Debut
By: Covy Moore Monday, September 12, 2016 @ 10:32 AM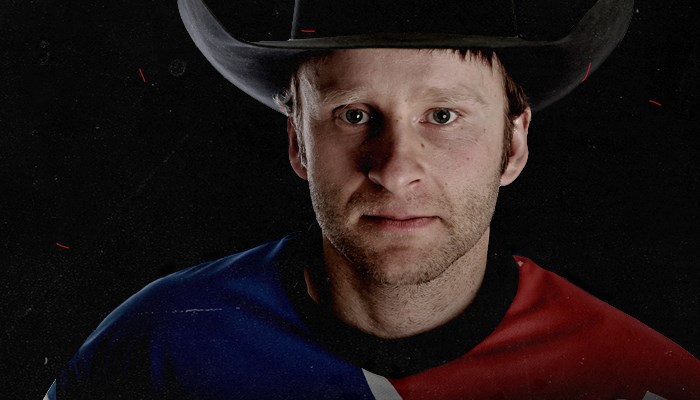 The PBR Monster Energy Canada Tour makes its stop in Manitoba this weekend and will be welcoming back one of the most in-demand bullfighters the country has to offer in Brett Monea.
Monea, of Carstairs, AB was Injured in a wreck when he had to step in for PBR Canada standings leader Ty Pozzobon in Calgary on June 8th. After a successful eight second ride, Monea's leg was broken by a point bull called Big Rig.
"Our job as bullfighters is protecting cowboys at whatever cost," Monea said. "I had to put myself in a position where the bull had to choose between me and the cowboy and luckily he chose me. He ended up pawing me down and stepped on the right foot around the ankle area, and broke my tibia."
During his approximately 11-week recovery and rehab, Monea was focused. So focused that to ensure he was able to get back to work at the earliest convenience, he spent some time modifying a rowing machine to be able to keep the rest of his body in shape without detrimental movement for the injured leg.
The Canadian rodeo and bull riding community rallied behind Monea. Fellow Canadian and PBR Built Ford Tough Series bullfighter Jesse Byrne filled in for Monea through the summer run. Byrne even wore Monea's sponsor jerseys to ensure those commitments were fulfilled.
The goal for Monea was to be fit and ready before the first of the autumn long PBR Monster Energy Canada Tour in Ottawa, ON, but Monea admits he was slightly over-optimistic at how the physiotherapy end of the recovery would go.
"My goal was to be at the first one but for me, I didn't put into perspective how big physio would be," Monea said. "I thought 'oh, just get that cast off and I will be off running.' That is all just a part of the game, you have to put the work in to be back where I want to be. I made the decision to turn out of London too, I really wanted to be there. But I don't want to put any of these cowboys at risk, I need to be able to do my job. I think it was the smart decision."
In the end, it would be a rodeo that was his first test back inside the arena, fighting five performances of the Interior Provincial Exhibition Rodeo in Armstrong, BC last weekend. Monea admitted he was nervous heading into the first performance, but said it didn't take long go get that confidence back.
"After that first performance, when that one was over I knew I could do my job," Monea said.
"There are five performances in Armstrong, and each performance everything got stronger. That last day you forgot what even happened out there. I knew I could handle it and it was time to get back to work."
Now that the injury is behind him, and he has stepped in for many bull riders in Armstrong, Monea is ready to get to the top of the bull riding game in Canada. Fighting bulls under the bright lights in Winnipeg's MTS Centre.
"It means everything," Monea said. "Just being the top of your profession. The best bull riders in Canada, to be a part of that community you have to be at the top of your game and have well developed and skills as a bullfighter. As a guy coming up my whole life, I wanted to be at those big bull ridings. I have done that in the past and I wanted to be at these tour events."
And now that the ticket is booked, Monea is looking toward that draw to see which bulls he will have to jump in front of for the sake of a downed cowboy on Saturday night.
"Big Rig of Outlaw Buckers, he is the one that stepped on me at Calgary," Monea said. "That is a big bull and when the rider comes off he either won't even look at you, or really be on the fight. He is big, at 2,000 lbs or so, so he is one to watch. Minion Stuart, from Skori Bucking Bulls, has been a great bull in Canada. He is always on the fight. I like those bulls that are a little more aggressive than the ones that are laissez-faire. Nansen Vold and Vold Rodeo, they pack one bull called Indian Turtle. That bull stepped on Scott Byrne's face, one of the best bullfighters in all of Canada and who has even been around his sport. He is always looking for someone, he is one to watch."
"Feeling Blue is another favourite of mine, of Vold's. For the bull rider, you will be 86 points on him, and you better know what you are doing cause when the ride is done he is looking for someone." 
The PBR is in Winnipeg, MB for stop number three of the PBR Monster Energy Canada Tour on Saturday, September 17th at the MTS Centre starting at 7:30pm. Tickets are available at Ticketmaster starting at $25.