Manitoba's PBR Canada Champ returns to MTS Centre
By: Covy Moore Wednesday, September 14, 2016 @ 12:41 PM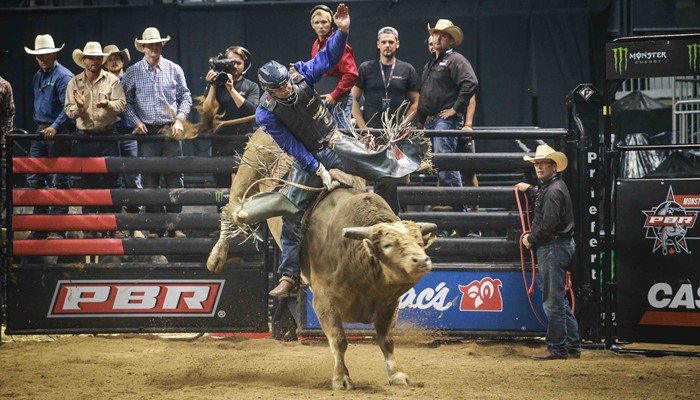 When thinking of bull riders from Manitoba, one name comes to mind.
That's five-time PBR World Finals Qualifier, Calgary Stampede Final Four Qualifier, 2015 runner up to the CPRA Championship and 2013 PBR Canada Champion, Zane Lambert.
Five broken ribs, and a pair of collapsed lungs were presented to the veteran Canadian bull rider after a scary wreck in Stavely, Alberta in May of this year. A nine-week recovery dropped him to the back of the standings where he still sits.
Lambert's first event back was the Calgary Stampede.
He hasn't looked back since, collecting cheques and rapidly climbing both the Canadian Rodeo and PBR Canada standings.
"It takes a combo of things to put those top rides together," Lambert said. "To get to that consistent rank riding ability, you have just got to get on a roll. I just think I haven't been on a roll yet. I am covering everything under 85 (points), using those draws when I can, but I am not riding my short rounds. Six months ago I could ride everything they threw under me. It's just about getting rolling and getting that groove back. 
"My health is back, but my riding needs to get a little better yet. If you stop striving for that you are going to start to lack, you have to keep driving to get better. I just need to get a couple 90's on the board, I think I am due for one or two of those."
Driving to get better he has. Lambert is one of the most focused bull riders on the back of the chutes during the PBR Monster Energy Canada Tour events.
This weekend's event gives him that little bit extra motivation, heading back to his home province of Manitoba.
"Ponoka and Alberta have become home over the past eight years, but that is still home. I am still a Manitoba boy," Lambert said.
"It is definitely going to be a situation where I know where to go, what to see, have a few dinners with some relatives and long lost relatives that I haven't seen in some time. I am looking forward to getting back there and getting the support of friends and family."
It is not only the support of family and friends that Lambert is looking forward to, but the fact that he was the inaugural winner of the Winnipeg PBR in 2006, an entire decade ago.
"It was exactly ten years ago in 2006 when Winnipeg had their first PBR," Lambert said. "I ended up winning it after getting in as an alternate. I went three-for-three and won the event. It would be pretty cool to win it a decade later."
The PBR Monster Energy Canada Tour, which is being televised on TSN, has the support of some of the biggest names in the bull riding industry. Lambert says he is excited to be a part of such a growth spurt for the sport.
"It is huge. It is something that I have always wanted to be a part of. We want to be able to let a Canadian kid make a living at it, get ahead and be successful," Lambert said. "There are a lot of people putting a lot of effort into it. I have seen it for a long time in the 'States and I have always wanted to be a part of that and bring it back to Canada.
"It is huge, we all are trying to make it better for the next guy or the next athlete coming up."
The PBR is in Winnipeg, MB for stop number three of the PBR Monster Energy Canada Tour on Saturday, September 17th at the MTS Centre starting at 7:30pm. Tickets are available at Ticketmaster starting at $25.