Jackson Scott makes Monster Tour debut close to home
By: Covy Moore Friday, September 30, 2016 @ 2:43 AM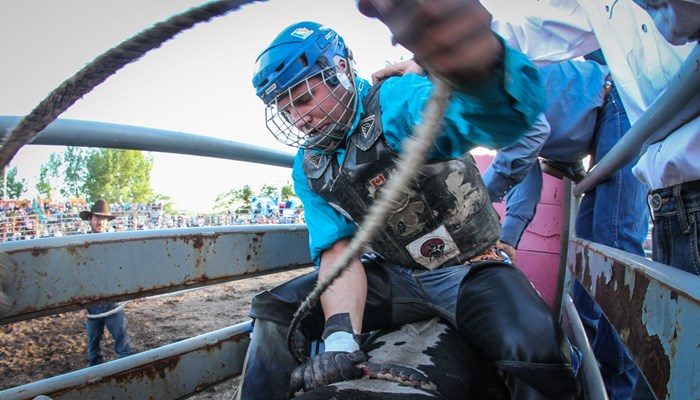 There is a new and pretty local face making his PBR Monster Energy Canada debut this weekend in Abbotsford.
Kamloops native Jackson Scott, in his first year of competition in the PBR, is slated to get his start on the cross-country tour Saturday night at the Abbotsford Centre.
Scott got his start riding steers, like most bull riders do, on the family land growing up. With family and friends involved in rodeo, Scott says getting into the sport was the natural progression for him, but he had one big obstacle to overcome.
Mom.
"I was born and raised around rodeo and rode steers as a youngster," Scott said. "It took a few years after I was done riding steers to convince my mother to let me ride bulls, but by 12th grade she let me enter my first high school rodeo in the bull riding."
Coming from British Columbia, and being a bull rider there is one name that springs to mind. Current PBR Canada points leader, and PBR World Finals qualifier Ty Pozzobon. Being from nearby Merritt, Scott says he has spent some serious hours on the road with Pozzy this year, and has been an invaluable resource for the first-year pro.
"Ty Pozzobon has really taken me under his wing to get me started in my first year riding pro, I have known Ty since I was little as my older siblings rodeo'd with him in high school. I have always looked up to him," said Scott.
"And all the other veterans like Tanner Girletz, Zane Lambert, Scott Schiffner and Tyler Pankewitz are always around on the chutes helping out with what ever questions I have."
Pozzobon added that Scott is easily one of the most promising rookies on the circuit today, and has a lot ahead of him.
"I have known Jackson since he was young, and he was a wild little bugger just like me," said Pozzobon
"He has more talent than I ever had at that age. I know at his age I didn't ride that well. Jackson is a cowboy and he's going to go along ways."
Having watched some of the PBR Monster Energy Canada Tour on TSN, and been an alternate at Calgary, Scott has a pretty good idea of the excitement at these events. But just like every other guy getting on bulls in the PBR, he has his eyes on one buckle as his long term goal.
"As any kid that grew up on a ranch ever dreamed of, my goal is to complete at the PBR World Finals and win a PBR World Title, it's been my dream since the first calf my dad and brother put me on," said Scott.
"There isn't a show in the world that compares to the PBR, the crowd is part of the bull riding and the feeling the building gives you, you will never experience that anywhere else. It's the toughest sport on this planet and you get to watch it live."
The PBR is in Abbotsford, BC for stop number five of the PBR Monster Energy Canada Tour on Saturday, October 1st at the Abbotsford Centre starting at 7:30pm. Tickets are available at Ticketmaster.