Green makes PBR Canada comeback in Winnipeg
By: Covy Moore Monday, September 19, 2016 @ 2:33 PM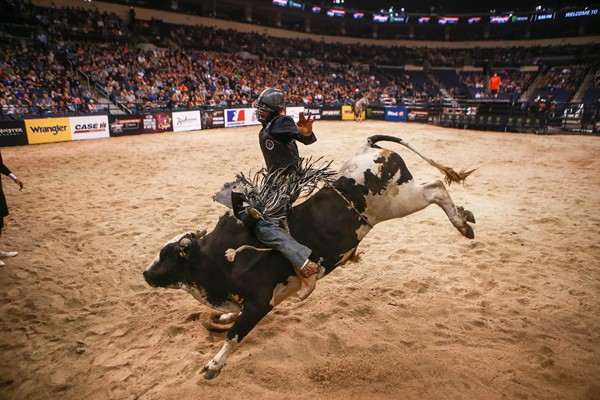 Meeting Creek Alberta's Garrett Green returned to regular competition in the PBR Monster Energy Canada Tour after suffering two broken ribs and a punctured lung right in the middle of what is called Cowboy Christmas in July.
Getting his season off to a spectacular start, Green took home the overall wins in two of the bigger regular season events in Lethbridge, AB and Moose Jaw SK, and was handily leading the points standings.
Despite a full two months off, Green didn't lose too much ground in the standings, currently sitting sixth in Canada and a lock to make it to the PBR Monster Energy World Final Qualifier in only a couple weeks in Saskatoon.
Green said that he had a hard time working the muscles back into shape in regards to the rib injury and didn't want to get on until he was feeling 100 per cent again.
"I was having some troubles with that injury," Green said. "I am happy to be back now. I was riding really good, doing some winning. I didn't want to sit out, I even told my doctor I would be back at it in two weeks but here I am coming back two months later. I was always short of breath, it was taking a long time for things to heal up. The muscles separated from the ribs and I think that is what took the longest. I couldn't hardly press my riding arm against my ribs even with my vest on. I have been keeping busy stretching and doing some yoga and get those muscles working again so they are not so sore."
Confidence wasn't an issue for Green this weekend as his points position, coupled with a great draw in Winnipeg made the Alberta cowboy breath easy.
"It didn't hurt to bad in the standings, I watched myself go down a few holes," Green said. "(Cody) 'Covey' (Coverchuk) and Wacey (Finkbeiner) bumped me down a bit, to sixth place. I got a good draw (in Winnipeg) and I think I can climb up those standings pretty fast."
That draw was a bull that has had a great summer. Arnie, from the Wild Hoggs helped PBR Canada points leader Ty Pozzobon to the top of the standings and the win in Innisfail in July, while contender Justin Lloyd found 86.5 points on him just last weekend in Stavely.
Green was able to find 84 points in his first round ride, but was unable to finish off the eight in the championship round of competition. For his work, Green earned $1,377 and potentially enough points to overtake Finkbiener in the Canadian standings. 
During his time off, Green admitted he decided to sit back and enjoy watching some of his traveling partners tear it up on TSN. Events are tape-delay televised on Wednesdays following each PBR Monster Energy Canada Tour date.
"Hell yeah! I ain't going to miss that. It's the first time we have ever had a TV series," Green said.
"It was great, the interviews are great and the guys did a good job. It is really good to get this stuff on television it helps us get more sponsors, some big sponsors. They want people to be able to see their brand and see it a lot. Just seeing them at Pro Rodeos or PBR here and there with no television, it's not as big."
Garrett Green and the PBR is in Calgary, AB for stop number four of the PBR Monster Energy Canada Tour on Saturday, September 24th at on Stampede Park's Agrium Western Events Centre starting at 7:30pm. Tickets are available at Ticketmaster.