Buttar looks forward to PBR Monster Energy Canada Tour
By: Covy Moore Tuesday, August 16, 2016 @ 3:59 PM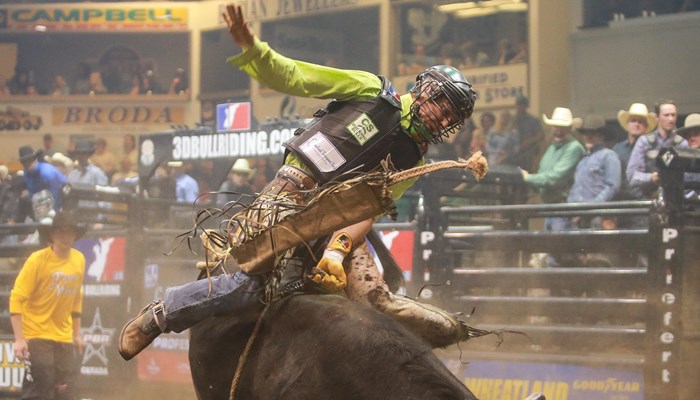 For Dakota Buttar, PBR Canada's Monster Energy Tour is a lot more than just another set of bull ridings.
For the two-time and reigning Canadian Pro Rodeo Bull Riding Champion, this is a whole new test for him.
"They haven't had anything like this in the PBR for a few years now. Sounded pretty cool when people were discussing it at the start of the year, I wanted to be a part of it. It's something new. All the rodeos I have been to for quite a few years now," said Buttar who is in the second spot in PBR Canada competition.
"I do love the rodeos, I like all the other events. I enjoy watching and being a part of those, but doing these PBR's is a new challenge for me"
With a handful of wins on the year already, Buttar has quite a bit of confidence going into the first stop of seven along the tour. With one of the most consistent pre-ride routines, Buttar gave a little insight into the mental game before riding a bull.
"Most of the time, I try and focus on me and the bull. Not to worry about everyone else is doing, who rides and things like that. I just want to get that bull rode each and every day. I used to follow what the bulls patterns are. I quit that in the last few years because that got me in some trouble," he said.
"Some things you pick up on, what they might do, but you really have to ride jump for jump."
With a lot on the line over the next seven events, Buttar said that there isn't one competitor he keeps his eye on, but with British Columbia cowboy Ty Pozzobon making an outright attack on the standings the past few weeks, one cannot help but wonder what he is doing different.
"He has always rode good, when he is healthy there isn't anything that can buck him off," Buttar said. "He has had some injuries in the last few years and that has kept him back, but if he stays healthy, he can win whatever he wants."
Considering the tour is a new addition to the PBR Canada season, which would normally consist of Touring Pro events, followed by a finals, Buttar thinks both the riders and fans will take a lot from the eastern stops of the tour.
"It is going to be something new to them out there, they haven't seen anything like this in a few years," Buttar said.
"They should get right into it. I don't know what sort of agriculture they have out there, but these are just great events. You don't want to miss it. I am pretty excited to see these ones out east will be like. I am really excited for this first one in Ottawa."
The PBR Monster Energy Canada Tour kicks off on August 20th in Ottawa, ON. Tickets are available at PBRCanada.com