Three-Time PBR Canada Champion Aaron Roy Wins PBR Canada Touring Pro Division Event in Winnipeg, Manitoba
By: Kacie Albert Saturday, May 27, 2023 @ 11:29 AM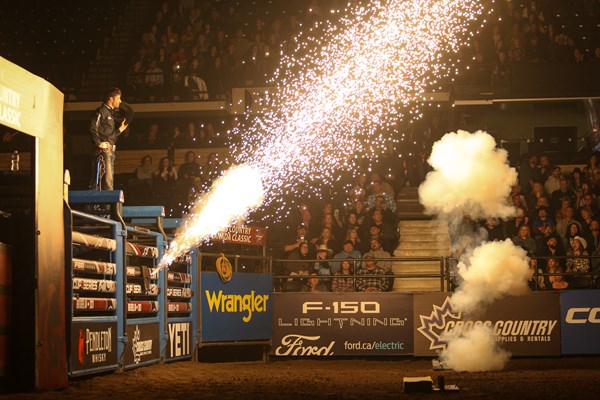 WINNIPEG, Man. – Chasing an unprecedented fourth national title in 2023, Aaron Roy (Yellow Grass, Saskatchewan) gain significant ground in the PBR (Professional Bull Riders) Canada Championship race Friday night, going a perfect 2-for-2 to win the Touring Pro Division's PBR Bulls Night Out, presented by Red River Exhibition, in Winnipeg, Manitoba.
The veteran contender first put points on the board in Round 1 when he teamed with Freaked Out (Lazy S Bucking Bulls) for 79.5 points. The 8-second effort positioned Roy second on the event leaderboard entering the final round.
Roy next found himself matched up against Crossfire's Black Jack (Lazy S Bucking Bulls). Again reaching the whistle, the three-time PBR Canada Champion was scored an event-best 86 points to clinch the victory.
Netting a crucial 37 national points, Roy rose from No. 18 to No. 11 in the national standings. He is now within 202 points of No. 1 Jared Parsonage (Maple Creek, Saskatchewan).
Fresh off his World Finals debut, Nick Tetz (Calgary, Alberta) also went 2-for-2 in Winnipeg to finish second, garnering 27.5 national points.
The reigning PBR Canada Champion tied for third in the opening round when he bested Finning JB Muley (Flying Four Bucking Bulls) for 79 points.
Tetz, who was recently inked to the practice squad for the Arizona Ridge Riders in the separate PBR Team Series, then cemented the silver showing when he conquered Flick the Switch (X6 Ranch Bucking Cattle/Legend Rodeo Stock) for 85.5 points.
While he remained No. 3 in Canada as he attempts to become the first back-to-back national champion in history, Tetz lessened No. 1 Parsonage's lead to 104.5 points.
Third was Blake Smith (Abbey, Saskatchewan).
Smith's 85.5-point, Round 1-winning score atop Bar Star (X6 Ranch Bucking Cattle/Legend Rodeo Stock) earned him 19 national points.
The Saskatchewan young gun rose from unranked to No. 23 in the national standings.
As the only other rider to make the 8, Micheal Ostashek (Edson, Alberta) was fourth.
Ostashek tied for third in Round 1, riding Evil Cross (Flying Four Bucking Bulls) for 79 points, but was bested in the championship round when he was upended by Wood Chuck (Lazy S Bucking Bulls) in 2.81 seconds.
The Albertan earned 12.5 national points.
Wood Chuck was crowned the Bull of the Event. He delivered the top bull score in his trip with Ostashek, awarded 44 points.
The 2023 PBR Canada season continues Saturday, May 27 in Brandon, Manitoba, for the third Cup Series, presented by Wrangler, event of the year. The PBR Mazergroup Chute Out at Westoba Place at Keystone Centre gets underway at 7:00 p.m. CDT.
Stay tuned in to PBRCanada.com and follow the tour on Facebook (PBR Canada), Twitter (@PBRCanada), and Instagram (@PBRCanada) for the latest results, news, stats and more.
PBR Canada Touring Pro Division
PBR Bulls Night Out, presented by Red River Exhibition
Red River Exhibition Park – Winnipeg, Manitoba
Event Leaders (Round 1-Round 2-Event Aggregate-Event Points)
1. Aaron Roy, 79.5-86-165.50-37 Points.
2. Nick Tetz, 79-85.5-164.50-27.5 Points.
3. Blake Smith, 85.5-0-85.50-19 Points.
4. Micheal Ostashek, 79-0-79.00-12.5 Points.
Weston Davidson, 0-0-0.00
Cody Fraser, 0-0-0.00
Cody Coverchuk, 0-0-0.00
Tyler Craig, 0-0-0.00
Wyatt Gleeson, 0-0-0.00
Chad Hartman, 0-0-0.00
Dakota Buttar, 0-0-0.00
Ashton Sahli, 0-0-0.00
Fabian Dueck, 0-0-0.00
Tim Lipsett, 0-0-0.00
Cauy Schmidt, 0-0-0.00
Carter Sahli, 0-0-0.00
Brock Radford, 0-0-0.00
William Barrows, 0-0-0.00
Callum Miller, 0-0-0.00
Keaton Martz, 0-0-0.00
Nick Goncalves, 0-0-0.00
Wade Marshall, 0-0-0.00
Tyson Salmon, 0-0-0.00
Brahmer Gaehring, 0-0-0.00