Three-Time PBR Canada Champion Aaron Roy Wins Elite Cup Series Event in Brandon, Manitoba to Catapult to No. 3 in 2023 Title Battle
By: Kacie Albert Saturday, May 27, 2023 @ 11:33 PM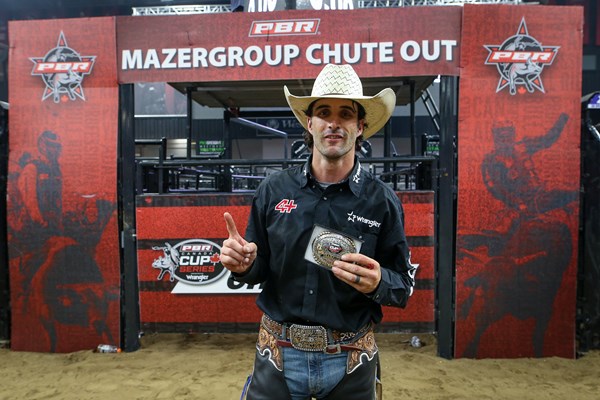 BRANDON, Man. – In front of a near capacity crowd Saturday night in Brandon, Manitoba, Aaron Roy (Yellow Grass, Saskatchewan) delivered a flawless 2-for-2 performance to win the PBR (Professional Bull Riders) Mazergroup Chute Out, the third stop of the 2023 season for the elite Canadian Cup Series, presented by Wrangler.
Less than 24 hours after earning his first victory of the season, dominating the Touring Pro Division event in nearby Winnipeg, Roy climbed aboard Emerald Inn (X6 Ranch Bucking Cattle/B2 Braithwaite Ranches) in Round 1 inside Westoba Place at The Keystone Centre.
In what proved to be a perfect pairing, three-time PBR Canada Champion Roy dominated the bull en route to the whistle, marked 85.5 points, the second-best score of the round.
Roy then selected The Remedy (X6 Ranch Bucking Cattle/B2 Braithwaite Ranches) as his championship round opponent.
Remaining in what seemed to be perfect time with the animal athlete, Roy was initially called for a buckoff past the 7.6-second mark, however, quickly challenged the call.
Upon review, Roy was deemed to have made the requisite 8, marked a victory-clinching 89 points.
Courtesy of the win, Roy garnered a crucial 116 national points.
Chasing an unprecedented fourth national title this November in Edmonton, Alberta, at the 2023 PBR Canada National Finals, Roy vaulted from No. 11 to No. 3 in the fierce title race. The veteran Saskatchewan man is now within 105 points of No. 1 Jared Parsonage (Maple Creek, Saskatchewan).
Parsonage remained No. 1 following the conclusion of the Brandon event, where he finished eighth, making history in the process.
Prior to the event, Parsonage had ridden 11 consecutive bulls, tied for the Canadian ride streak record initially set by Dakota Buttar (Kindersley, Saskatchewan) in 2020 en route to the national title.
Parsonage overtook sole ownership of the record in the opening round of the PBR Mazergroup Chute Out when he bested Teeka (Vold Rodeo/R Saga Ranch) for 84 points, marking his 12th consecutive ride.
In the championship round, Parsonage drafted Wood Chuck (Lazy S Bucking Bulls). While he reached the whistle, Parsonage, who was scored a mere 77 points, accepted his offered re-ride.
The reserved Saskatchewan man, however, was unable to keep his ride streak alive, tossed by his third animal athlete opponent of the night, Papa Spook (Vold Rodeo/Sky Hunter) in a swift 1.26 seconds.
The eighth-place finish overall earned Parsonage 19 national points. He now leads the new No. 2 contender Nick Tetz (Calgary, Alberta) by 102 points.
Fresh off making his World Finals debut, Tetz finished seventh in his second event back on home soil.
Newly inked to the Arizona Ridge Riders practice squad in the separate PBR Team Series, Tetz first put points on the board when he tied for fourth in Round 1, covering Rust Bucket (Vold Rodeo) for 84.5 points.
Tetz then architected a familiar showdown in the championship round, electing to go head-to-head with Langham Kid (Two Bit Bucking Bulls), the very bovine athlete who he covered at the 2022 PBR Canada National Finals en route to winning the Canadian Championship.
Tetz, however, was unable to replicate his past success, bucked off in 3.35 seconds.
Garnering 21.5 national points, Tetz rose from No. 3 to No. 2 in the 2023 PBR Canada Championship race as he attempts to become the first rider to win the coveted title in back-to-back seasons.
Returning to the top of the event leaderboard, Jordan Hansen (Amisk, Alberta) was second, taking home 91 national points.
Hansen first rode Disco Daze (X6 Ranch Bucking Cattle/Legend Rodeo Stock) for 83.5 points in Round 1, before delivering the high-marked ride of the tour stop in the championship round when he dominated two-time PBR Canada Bull of the Year Happy Camper (Two Bit Bucking Bulls) for a mammoth 89.5 points.
The 29-year-old surged from No. 31 to No. 9 in the national standings, and is now within 188 points of No. 1 Parsonage.
Third was William Barrows (Foremost, Alberta).
As the final rider to cover both of his draws, Barrows rode Red Coat (X6 Ranch Bucking Cattle/Legend Rodeo Stock) for 84.5 points in Round 1, and Positively Bangin (Outlaw Buckers Rodeo Corp.) for 85.5 points in the championship round.
Marking the 22-year-old's career-best finish on the elite Cup Series, presented by Wrangler, Barrows earned 67.5 national points. He climbed 16 positions in the Canadian standings, rising from No. 29 to No. 13.  
Fourth was Wyatt Gleeson (Sundre, Alberta).
After bucking off Crying Over You (Two Bit Bucking Bulls) in a close 7.14 seconds in Round 1, Gleeson made the most of his second chance when he advanced to the championship round on time.
Facing off with Haunted Halos (X6 Ranch Bucking Cattle/B2 Braithwaite Ranches), Gleeson reached the 8 for 86.5 points.
Gleeson garnered 38 national points and rose from No. 10 to No. 7 in the Canadian standings. He is now 180 points back of the top spot.
Rounding out the Top 5 in fifth was Tyler Craig (Crossfield, Alberta).
Craig's Round 1-winning, 86-point ride aboard Lil' Hooch (Two Bit Bucking Bulls) earned him 45 national points. After travelling to Brandon ranked No. 9 in Canada, he is now No. 6, 171 points removed from the No. 1 rank.
In the bull pen, Langham Kid dominated, crowned the YETI "Built for the Wild" Bull of the Event.
The powerful animal athlete was marked a tour stop-best 44.5 points in the championship round when he upended Tetz.
The 2023 PBR Canada Sup Series, presented by Wrangler, will next travel to London, Ontario, and Budweiser Gardens for the PBR London Classic on Wednesday, May 31. Action will get underway at 7 p.m. EDT. 
Stay tuned in to PBRCanada.com and follow the tour on Facebook (PBR Canada), Twitter (@PBRCanada), and Instagram (@PBRCanada) for the latest results, news, stats and more.
PBR Canada Cup Series, presented by Wrangler
PBR Mazergroup Chute Out
Westoba Place at The Keystone Centre – Brandon, Manitoba
(Round 1-Round 2-Event Aggregate-Event Points)
1. Aaron Roy, 85.5-89-174.50-116 Points.
2. Jordan Hansen, 83.5-89.5-173.00-91 Points.
3. William Barrows, 84.5-85.5-170.00-67.5 Points.
4. Wyatt Gleeson, 0-86.5-86.50-38 Points.
5. Tyler Craig, 86-0-86.00-45 Points.
6. Ashton Sahli, 85-0-85.00-29 Points.
7. Nick Tetz, 84.5-0-84.50-21.5 Points.
8. Jared Parsonage, 84-0-84.00-19 Points.
9. Jake Gardner, 83-0-83.00-16 Points.
Coy Robbins, 0-0-0.00
Weston Davidson, 0-0-0.00
Garrett Green, 0-0-0.00
Cody Fraser, 0-0-0.00
Cody Coverchuk, 0-0-0.00
Chad Hartman, 0-0-0.00
Dakota Buttar, 0-0-0.00
Fabian Dueck, 0-0-0.00
Tim Lipsett, 0-0-0.00
Blake Smith, 0-0-0.00
Cauy Schmidt, 0-0-0.00
Carter Sahli, 0-0-0.00
Brock Radford, 0-0-0.00
Micheal Ostashek, 0-0-0.00
Callum Miller, 0-0-0.00
Daylon Swearingen, 0-0-0.00
Keaton Martz, 0-0-0.00
2023 PBR Canada National Standings
(Place, Rider, Events, Wins, Top 5's, Points, Total Winnings)
1. Jared Parsonage, 4, 2, 3, 291.00, $19,845.83
2. Nick Tetz, 5, 1, 2, 189.00, $11,515.36
3. Aaron Roy, 8, 2, 4, 186.00, $14,710.16
4. Coy Robbins, 7, 3, 4, 181.66, $15,759.79
5. Weston Davidson, 9, 0, 3, 126.50, $9,799.79
6. Tyler Craig, 9, 0, 3, 120.00, $4,317.50
7. Wyatt Gleeson, 7, 0, 2, 111.00, $6,340.63
8. Jake Gardner, 7, 0, 2, 109.50, $6,608.13
9. Jordan Hansen, 2, 0, 1, 103.00, $5,875.00
10. Garrett Green, 3, 0, 1, 101.00, $4,810.00
11. Cody Fraser, 11, 1, 3, 92.50, $5,668.75
12. Cody Coverchuk, 9, 0, 2, 91.16, $5,323.54
13. William Barrows, 6, 0, 1, 80.50, $3,888.75
14. Ashton Sahli, 3, 0, 1, 75.00, $4,106.25
15. Chad Hartman, 7, 0, 1, 67.00, $3,500.00
16. Stefan Tonita, 4, 0, 1, 48.50, $1,572.81
17. Griffin Smeltzer, 2, 1, 1, 48.00, $3,941.88
18. Dakota Buttar, 6, 0, 2, 47.00, $3,993.23
19. Kobe Whitford, 4, 0, 1, 40.50, $1,615.00
20. Cole Wagner, 5, 1, 1, 36.50, $3,479.69
21. Fabian Dueck, 6, 0, 1, 27.50, $1,587.50
22. Jake Maher, 9, 0, 1, 27.00, $2,337.50
23. Joe Alejos, 1, 0, 0, 20.66, $446.25
24. Tim Lipsett, 4, 0, 0, 19.50, $258.33
25. Blake Smith, 2, 0, 1, 19.00, $2,032.03
26. Cauy Schmidt, 4, 0, 1, 18.00, $1,655.73
27. Carter Sahli, 5, 0, 1, 17.00, $1,115.63
28. Brock Radford, 7, 0, 1, 16.00, $1,500.00
29. Cole Young, 4, 0, 0, 14.00, $0.00
30. Jett Lambert, 3, 0, 0, 13.50, $0.00
31. Micheal Ostashek, 7, 0, 1, 12.50, $1,261.72
32. Callum Miller, 5, 0, 1, 11.00, $508.23
33. Grady Smeltzer, 3, 0, 0, 2.00, $0.00