Missouri Thunder's Callum Miller Wins PBR Canada Touring Pro Division Event in Elnora, Alberta
By: Kacie Albert Monday, August 15, 2022 @ 9:22 PM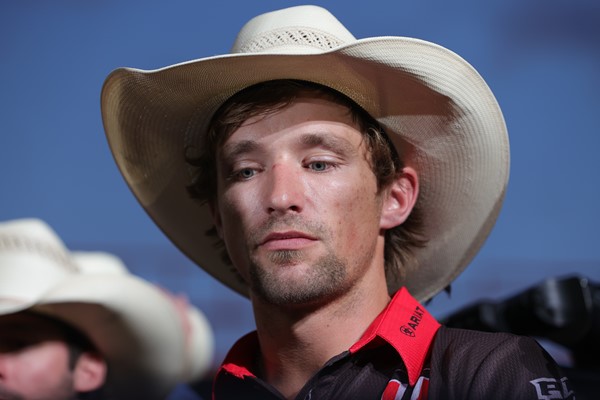 ELNORA, Alta. – As the only rider to go a perfect 2-for-2 Saturday night in Elnora, Alberta, the Missouri Thunder's Callum Miller (Warwick, Queensland, Australia) captured his second PBR (Professional Bull Riders) Canada Touring Pro Division event win of the season, victorious at the Elnora Braham Rama.
Sweeping the event, Miller surged to the top of the event leaderboard in Round 1, when he covered Wild Child (Lazy P Rodeo) for 85 points.
The charismatic Australian then readied to face Beer Buzz (Wilson Rodeo) in the second round of competition at the Elnora Agricultural Grounds. Matching the bovine athlete jump-for-jump, Miller reached the whistle, scored an event-best 86 points to clinch the golden finish.
For his efforts, Miller earned a critical 31 national points as he attempts to become the first Australian PBR Canada Champion in history. He rose three positions in the heated national standings, climbing from No. 17 to No. 14.
Miller is now within 125 points of No. 1 Brock Radford (De Winton, Alberta).
Second was surging Albertan Logan Biever (Claresholm, Alberta), collecting 16 national points.
Biever was bested in Round 1 by Lost & Found (Lazy P Rodeo) in 4.06 seconds but returned determined in the second round as he climbed aboard Lil' Hooch (Flying High Rodeo Co.).
Quick to rebound, Biever covered the bull for a championship round-best 86 points.
Biever remained No. 3 in the race to be crowned the 2022 PBR Canada Champion but inched within a mere 13 points of the top spot.
Third was Stefan Tonita (Saskatoon, Saskatchewan).
The Saskatchewan man delivered an 84-point ride on Blue North (Two Bit Bucking Bulls) in the first round to earn 13 national points.
As the only other rider to reach the requisite 8, three-time PBR Canada Champion Aaron Roy (Yellow Grass, Saskatchewan) was fourth.
Seeking his unprecedented fourth national title in 2022, Roy rode Little Bit of Blue (Vold Rodeo) for 63 points in Round 1 to secure the podium finish.
Roy left the Elnora Braham Rama having netted 7 national points. He rose from No. 9 to No. 8 in the Canadian standings and now trails No. 1 Radford by 84 points.
In the bull pen, Papa Spook (Vold Rodeo) was unrivaled, crowed the Bull of the Event. The powerful animal athlete posted a tour stop-best 44-point trip in Round 2 when he matched up with Tonita (Saskatoon, Saskatchewan).  
The 2022 PBR Canada season continues Friday, August 19 for the Touring Pro Division's PBR Winfield in Winfield, Alberta. Action at the Winfield Rodeo Grounds gets underway at 7:00 p.m. MDT.
Stay tuned in to PBRCanada.com and follow the tour on Facebook (PBR Canada), Twitter (@PBRCanada), and Instagram (@PBRCanada) for the latest results, news, stats and more.
PBR Canada Touring Pro Division
Elnora Brahma Rama
Elnora Agricultural Grounds – Elnora, Alberta
(Round 1-Round 2-Event Aggregate-Event Points)
1. Callum Miller, 85-86-171.00-31 Points.
2. Logan Biever, 0-86-86.00-16 Points.
3. Stefan Tonita, 84-0-84.00-13 Points.
4. Aaron Roy, 63-0-63.00-7 Points.
Brock Radford, 0-0-0.00
Dakota Buttar, 0-0-0.00
Blake Smith, 0-0-0.00
Chad Hartman, 0-0-0.00
Weston Davidson, 0-0-0.00
Osman Alvarez, 0-0-0.00
Tehiko Neill, 0-0-0.00
Keaton Martz, 0-0-0.00
Riley Sibbet, 0-0-0.00