Buttar Wins Second Night of Ranchman's PBR BullBustin'
By: Ted Stovin Thursday, July 5, 2018 @ 2:28 AM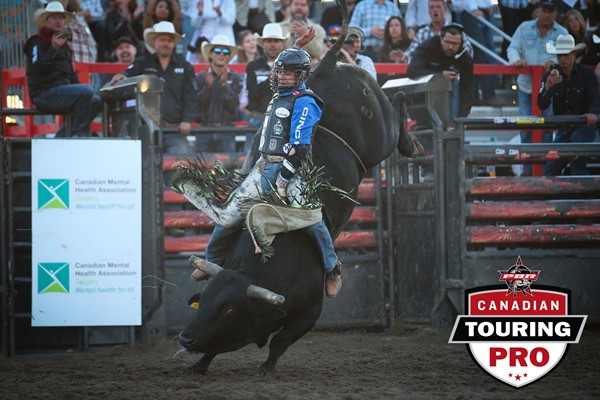 CALGARY, Alberta – On Wednesday night, Dakota Buttar (Kindersley, Saskatchewan) captured his first event win of the season, victorious at the PBR (Professional Bull Riders) Canada Touring Pro Division's (TPD) Ranchman's PBR BullBustin' in support of the Canadian Mental Health Calgary, presented by Victory Lab.
Through private donations, the 50/50 and event Calcutta, more than $30,000 was raised in support of Canadian Mental Health Canada.
As the top ranked Canadian in the world standings at No. 13, Buttar began the event riding Southern Trespass (Outlaw Buckers Rodeo Crop.) for 84.5 points in Round 1. The 25-year-old then catapulted to the event lead in the Championship Round after he recorded the first 90-point effort in Canadian competition this season, making the 8 on Brahma Boots Chrome (Outlaw Bucker Rodeo Corp.) for 90 points.
"It's been a long time since I've been riding at home, it's good to be home," Buttar said moments after being crowned the event winner. "It's so fun when the crowd gets into it. They got me fired up and I don't usually get fired up. It's definitely a special place. I don't want to miss this one anymore."
Collecting a pay check for $4,972.50 CAD, Buttar also earned 60 world points closing the gap on No. 12 Fabiano Vieira (Pérola, Paraná, Brazil) who he now trails by 27.5 points.
American riders Stormy Wing (Dalhart, Texas) and Matt Triplett (Columbia Falls, Montana) tied for second as the remaining two athletes to deliver a flawless 2-for-2 performance Wednesday evening.
Wing rode Wired Wrong (Outlaw Buckers Rodeo Crop.) for 84 points in Round 1 and added a season-best 88.5 points on Blue Monkey (Girletz Rodeo Stock) in the Championship Round to earn $2,907 and 25 world points. The runner-up performance is Wing's best finish thus far of the 2018 season.
Also recording a cumulative 172.5 points on two bulls, Triplett covered Whiskey Muscles (Vold Rodeo) for 85.5 points in Round 1 and then took another Vold bull, Black Bath, to the 8-second whistle for 87 points in his final out. In three consecutive days of competition, the Montana man has tallied $6,377.48, going a collective 5-for-6, and netting 55 world points as he continues his march up the standings after reconstructive shoulder surgery sidelined him the majority of the first half.
After winning the first night of action at Ranchman's, Lachlan Richardson (Gresford, New South Wales, Australia) continued his hot streak, finishing fourth, his third Top 10 finish in as many days.
In Round 1 he rode to a round-best 86.5-point effort on Baja Midnight (Vold Rodeo), but was bucked off by Kalit Karma (Vold Rodeo) in the Championship Round.
Richardson claimed $1,989 and 15 world points for his efforts.
Rounding out the Top 5 was Koal Livingston (Burleston, Texas) and Tim Lipsett (Lumsden, Saskatchewan). While both were denied qualified rides in the Championship Round, they recorded matching 84.5-point trips in Round 1, making the 8 on 2 Trouble (Vold Rodeo) and OLS Tubs Sweat & Regret (Outlaw Buckers Rodeo Corp.), respectively.
Livingston and Lipsett each take home $765.00 and 7.5 world points.
Strong Arm (Vold Rodeo) was the high-marked bull of the event, scoring 45.5-points for his 3.86-second buck off Logan Biever in the Championship Round.
PBR Canada Touring Pro Division action continues on Thursday July 5 in Calgary, with the third and final night of Ranchman's PBR BullBustin', the Sunbelt Rentals Ranchman's PBR BullBustin' in support of the Sheldon Kennedy Child Advocacy Centre, presented by Alstar. Action gets underway at 7:00 p.m. MT, with all the action broadcast LIVE on RidePass.
Be sure to stay tuned to PBRCanada.com and follow the tour on Facebook (PBR Canada), Twitter (@PBRCanada), and Instagram (@PBRCanada) for the latest results.
Ranchman's PBR BullBustin' in support of Canadian Mental Health Calgary, presented by Victory Lab – Calgary, Alberta – July 4, 2018
PBR Canada Touring Pro Division Event Results
Event Leaders (Round 1-Round 2-Aggr. Score-Total Points-Money Earned-World Points)
1. Dakota Buttar, 84.5-90-174.5-$4,972.50-60
2. Stormy Wing, 84-88.5-172.5-$2,907.00-25
2. Matt Triplett, 85.5-87-172.5-$3,366.00-25
4. Lachlan Richardson, 86.5-0-86.5-$1,989.00-15
5. Koal Livingston, 84.5-0-84.5-$765.00-7.5
5. Tim Lipsett, 84.5-0-84.5-$765.00-7.5
7. Lachlan Slade, 82-0-82-$321.30-0
8. Logan Biever, 80.5-0-80.5-$107.10
8. Tanner Byrne, 80.5-0-80.5-$107.10
10. Cody Coverchuk, 79.5-0-79.5-$0-0
10. Casey Kirwan, 79.5-0-79.5-$0-0
10. Marcos Gloria, 79.5-0-79.5-$0-0
13. Daylon Swearingen, 76.5-0-76.5-$0-0