PBR Canada Finals Return to Saskatoon for Eighth Year
By: Kacie Albert Thursday, August 3, 2017 @ 9:30 AM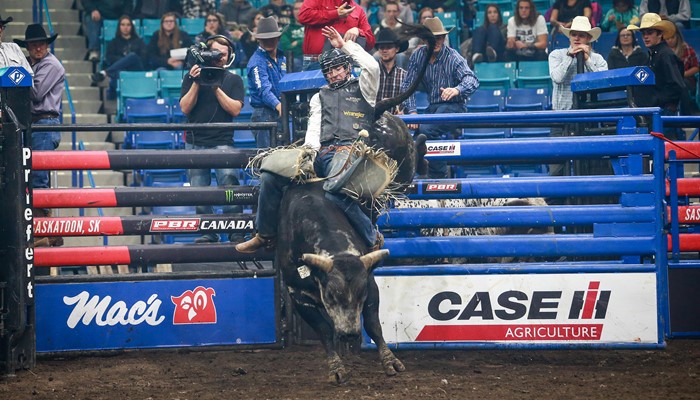 Event winner Zane Lambert rides Blue Stone for 83.50 points in Round 1 of the 2016 PBR Canada Finals. Photo: Covy Moore.
SASKATOON, Saskatchewan – For the eighth consecutive year, the PBR (Professional Bull Riders) will return to Saskatoon, Saskatchewan and the SaskTel Centre for the PBR Canada Finals, where the tour's top rider will be crowned, earning the opportunity to compete for a spot at the prestigious PBR World Finals in Las Vegas, Nevada.
Season long riders have the opportunity to compete at more than 30 Monster Energy Tour and Touring Pro Division (TPD) events across Canada to earn points towards the Canadian National Standings, all in an effort to be the No.1-ranked man at year's end and crowned the PBR Canada Champion.
In addition to winning the coveted champion's buckle, the PBR Canada Champion will also earn a berth to compete at the Real Time Pain Relief Velocity Tour Finals in Las Vegas, Nevada on Oct. 28-30. The three-day event serves as the final opportunity for riders to qualify for a spot at the prestigious Built Ford Tough World Finals on Nov. 1-5, where the world's top bull rider will be crowned, earning the prestigious gold buckle and $1 million bonus.
At the SaskTel Centre, riders will also be competing for the event title, crucial points towards the world standings and $20,000 available in prize money.
In 2016, Ty Pozzobon was named the PBR Canada Champion after logging four event wins and 15 Top 5 finishes, earning more than $58,000 at both Monster Energy Tour and TPD events.
Other PBR Canada Champions include: Tanner Byrne (2015); Stetson Lawrence (2014); Zane Lambert (2013); Aaron Roy (2012, 2010 and 2008); Tyler Thomson (2011); Beau Hill (2009); Tyler Pankewitz (2007); and Scott Schiffner (2006).
Among the past champions, Lambert won the 2016 PBR Canada Finals event title, using an 83.5-point ride aboard Blue Stone and 85.5-point trip on Shot of Whiskey to claim the buckle. The finish propelled him within the Top 10 of the Canadian National Standings for the eleventh consecutive year.
Past PBR Canada Finals event winners include: Brady Oleson (2015); Aaron Roy (2014); Scott Schiffner (2013); Ty Pozzobon (2012); Dusty Ephrom (2011); Harve Stewart (2011); Mike Lee (2010); Guilherme Marchi (2009); Jock Connolly (2008); Vince Northrup (2007); and Brian Canter (2006).
The PBR Canada Finals is the seventh and final event of the 2017 Monster Energy Tour, the nation's first-ever cross-nation, nationally televised PBR series.
In just its second season, the Monster Energy Tour began the year hosting the PBR's first international Major event in Quebec City, Quebec before travelling to Ottawa and Toronto, Ontario. Prior to visiting Saskatchewan's largest city, the tour will also make stops in three additional provinces: Calgary, Alberta; Winnipeg, Manitoba; and Abbotsford, British Columbia.
The Monster Energy Tour features Canada's elite, alongside riders from up to five other countries, squaring off against the rankest bucking bulls from both Canada and the United States. Fans will witness exhilarating 8-second rides and wrecks throughout the action-packed event as the PBR's courageous cowboys face off against their 2,000-pound opponents.
The bull riding action begins at 7:30 p.m. CT on both Friday, Oct. 20 and Saturday, Oct. 21. All bull riders will get on one bull each in Round 1 on Friday night and Round 2 on Saturday night. The Top 10 will then advance to the championship round where the PBR Canada Champion and event winner will be named.
Tickets for the two-day event are on sale now. They range in price from $25 to $75 and can be purchased through PBRCanada.com or Ticketmaster.ca. Fans can purchase one day passes for Friday and Saturday, or a two-day, weekend pass.

The Corral Party, which will be offered for the second year, is for avid bull riding fans who want a behind-the-scenes look at Canada's premier bull riding circuit. This ticket add-on provides the VIP experience of a lifetime, including early entry; 60-minute backstage tour by a PBR host, featuring a PBR 101 presentation and a visit with some of the sport's fiercest bulls; and the opportunity for photos and autographs from top PBR stars.
The PBR Canada Corral Party add-on can be purchased in addition to any ticket for the event's second day on Saturday, October 21 for $25.
The Monster Energy Tour will be showcased on TSN/RDS, including a post-season highlights show. Fans should check local listings for broadcast event dates and times.