The Morning Line – Brandon Round 1
By: Tanner Byrne Saturday, May 27, 2023 @ 9:46 AM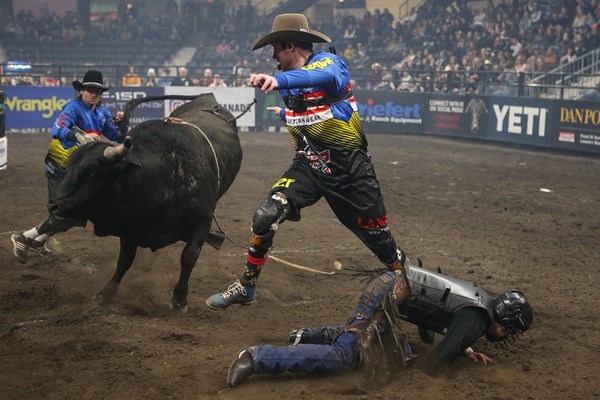 BRANDON, Man. – After a near three-month break, tonight the elite Canadian Cup Series, presented by Wrangler, returns to competition, taking over Brandon, Manitoba for one night of can't miss competition.
RELATED: Click here for the complete daysheet.
Jared Parsonage will begin the tour stop as the No. 1-ranked rider in the race for the 2023 PBR Canada Championship, but he is well within the sights of No. 2 Coy Robbins and No. 3 Nick Tetz.
Tetz will make his return to Canadian soil in Brandon having spent the last several months stateside as he earned his career-first berth to the World Finals, and in the process was signed by the Arizona Ridge Riders in the PBR Team Series.
Below are bullfighter Tanner Byrne's bets for Round 1 of the event from Brandon. Let us know your thoughts and your picks for the Cup Series event by tagging @PBRCanada on Twitter.
Tickets are still available and can be purchased at the Westoba Place at the Keystone Centre Box Office and online at Ticketmaster.ca.
Dakota Buttar vs. Trump Card
Dakota has matched up with this bull before, they were 87.5 in Grande Prairie in 2021, and look for the same here. This bull fits Dakota really well. Should be around to the left, stepping ahead a little bit, fitting Dakota's style absolutely perfect. I can't see this going any other way but an 86-88-point ride to set Dakota up to get the 2023 season on the tracks he wants them on, going for another Canadian Championship.
Jake Gardner vs. Devils Dues
This bull, he's always in my picks for The Morning Line due to the fact that I think he is the perfect long round bull. He has a lot of up and down, a lot of timing, one that doesn't matter what the guy's style really is, he should fit you the way that he bucks. He should have a big look to the left, and then around to the right, an 85-86-point score. This bull bucked Jake off up in Grande Prairie in 2022, but don't look for that to happen again. Jake stubbed his toe that day. He knows what this bull is all about. Jake is riding really well right now. Has a lot of confidence and has been back and forth in between the U.S. and Canada, getting on lots of bulls. Look for Jake to set himself up really good with an 85-point ride going into the short round.
Daylon Swearingen vs. Edge of Tomorrow
Daylon is coming back off of an injury, sat out most of the season on the UTB series. Just coming back now and look for him to be making up for lost time. This is a great bull from Lazy S Bucking Bulls. A lot of action, he's hot, he's mean. Should hop, skip out there around to the right, really get it on away from Daylon's hand. It doesn't matter which way they go for Daylon. This could be a highlight reel ride where we see an 88-90-point score. Look for Daylon to do what he does every time he gets on a bull, especially when he comes into Canada, he has that extra confidence and always rides really well up here, and loves coming up here. Look for a possible round win for Daylon on Edge of Tomorrow.
Jared Parsonage vs. Evil Cross
A good draw for Jared from the Flying Four Bucking Bulls. This bull should be out a couple, and around to the left into Jared's hand. One that you want to get on, one Jared should ride from an 84-86-point score. Look for Jared to do what Jared does up here all the time and beat them in the average. Jared is going to stay on almost all of the bulls that he gets on, and this is the perfect bull to set him up in the long round and come back in the short round middle of the pack. Probably ride another on there, and could squeak out another win out of Brandon just doing what Jared Parsonage does – beating them in the average and staying on all of his bulls. Great matchup for him, should fit him really well, one that he'll love to come to Brandon, get on and win some money on.
Nick Tetz vs. Rust Bucket
The reigning Canadian Champion is back on Canadian soil after making his first World Finals in Fort Worth, Texas, as well as being signed to the Arizona Ridge Riders. Nick is firing on all cylinders right now, has all the confidence in the world, knows that he is one of the best bull riders in the world coming into Canada again for the summer. He's wanting to go back-to-back and be the first to win back-to-back Championships. This bull is a handful from Nansen Vold. The guys don't get along with him all that much, he's not a desired one by any means. But I think that is going to pay into Nick's favor because he is liking those ones right now and that's what he wants to do. He wants to come up here and prove that he's the best, and that he can win another Canadian Championship. The bull could be either way, out a couple. A lot of action, kind of wants you down on his head. He'll throw everything at you to get you on the ground, but don't look for that to intimidate Nick. Look for him to step up to the plate and ride this bull for an 86-88-point score and come back into the short round.