Newly Inked Arizona Ridge Rider Nick Tetz Heading Home to Contend for Second Canadian Championship
By: Covy Moore Thursday, May 25, 2023 @ 10:29 AM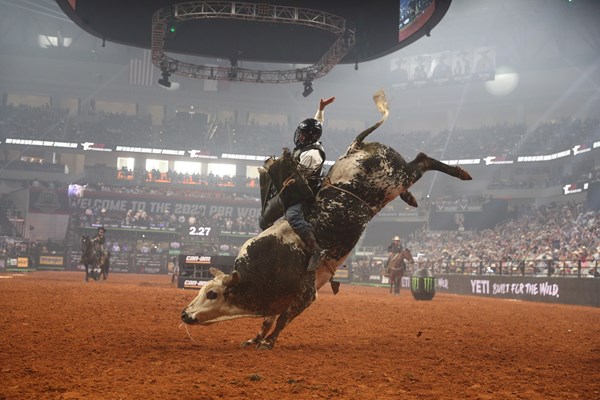 AIRDRIE, Alta. – Nick Tetz is the newest member of the Arizona Ridge Riders. Signed to the team's practice squad during the 2023 PBR World Finals, the 23-year-old says he is excited to get the second half of the season underway, both in the United States and in Canada.
Finishing 16th overall at his debut appearance at the World Finals, headlined by a second-place effort in Round 2, Tetz concluded the season a career-best No. 46 in the world.  
While the one ride week isn't what Tetz had hoped for, what he did hope to leave Texas with, in addition to a World Finals event win, was a contract with a PBR Team Series team.
And he accomplished that, signing to the Arizona Ridge Riders' practice squad.
"What it boiled down to is between coaching and management. I like both, they are very up front with me and tell me my role," Tetz said about discussions with Arizona Ridge Riders Coach and Manager Paulo Crimber and Colby Yates.
"They have been watching me, and I expressed my interest in chasing another Canadian title, and they are ok with that as well," Tetz continued. "I won't be able to miss too much of the team season, but for those events they don't need me, they aren't going to make me go down. There are some guys on the team too that I really like and have become buddies with. That is basically what it came down to for me to get pen to paper."
Tetz says he is very happy with the deal he struck with the Ridge Riders, adding that as soon as the deal was done, he had coaches and managers giving him assistance during the last rounds of the PBR World Finals.
"Right after I signed, they were both working with me on my World Finals efforts giving me little tips and talking about bulls," Tetz said of both Crimber and Yates. "It didn't pan out this time, but I know I rode those bulls further than I would have without their tips too. Having them back there, knowing they believe in you too, it really adds some confidence to you. It makes you put out that second effort."
"I can't imagine what it's going to be like having nine guys on the back of the chutes rooting for you over just one coach. They have a great mindset and all that. I look forward to picking their brains and learning all about what it takes to be at that next level."
This coming weekend, Tetz returns to Canada to continue his push to become the first back-to-back PBR Canada Champion in history, scheduled to compete at three events across six days.
The push begins with a PBR Canada Touring Pro Event in Winnipeg, Manitoba, on May 26, followed by the PBR Canada Cup Series, presented by Wrangler in Brandon, Manitoba, on May 27. Then, on May 31, PBR Canada returns to Ontario, heading to London for a one-night premier series event.
"Excited to come back home for a few events. See all my buddies. I saw Ashton [Sahli] at Acumen Performance today. Even just that helps out, it's nice to be home and seeing the boys again. We have some good bulls up here, and a lot of guys are riding really good. There is no cakewalk to be had with guys riding this good, so I am heading out there to do my job, get my bulls rode."
"I am more excited to be going to those events further out east too, I didn't get to do those ones years ago. I have heard great things about the fans out that way."
When asked what sort of bull matchups he is hoping for at these next three events, he has one bull in mind – Woodchuck -- the one of just two bulls that bucked him off at the 2022 PBR Canada National Finals inside Rogers Place in Edmonton, Alberta.
"The bulls down south are completely different," Tetz began. "Our bulls are bigger and more powerful, but a little bit slower. That's solely on the fact that we have animals that weather tough winters. Obviously if they are big, they are going to be a bit slower. The bulls down there are faster, and more cat-like, but not all bring that big power you feel on our bulls."
"The one bull that I have my eye on right now is that Woodchuck. At PBR Canada Finals I had the first pick in the third round, and I drafted that bull, and he got me down pretty quick. That is one that I would like to get back, and I think I can get back. He bucked that day, and he will be in even better shape being warm now. I feel like that is a bull that I can find a big score on and get some redemption. He almost cost me the Canadian title too. He didn't, but he almost did."
Tetz' message to anyone sitting on the fence about picking up tickets to any of the upcoming three events is simple. You won't regret the purchase.  
"You're not going to regret buying tickets to come out and watch. It's going to be a great show. Everyone I have been talking to are really excited for these couple events. Everyone is firing and wanting to do well right now, the start of the summer season for us."
"I think it's going to be a bit of a riding contest," Tetz concluded. "It's not going to be who can stay on the most. Going to come down to the guy who can get the most out of their bulls. It's going to be action packed and drama filled. PBR Canada, I feel like is the best when it comes to production and putting on a show for the fans. Between all that you're not going to want to miss the PBR Canada Cup Series."